Heartland 2009: Four Film Features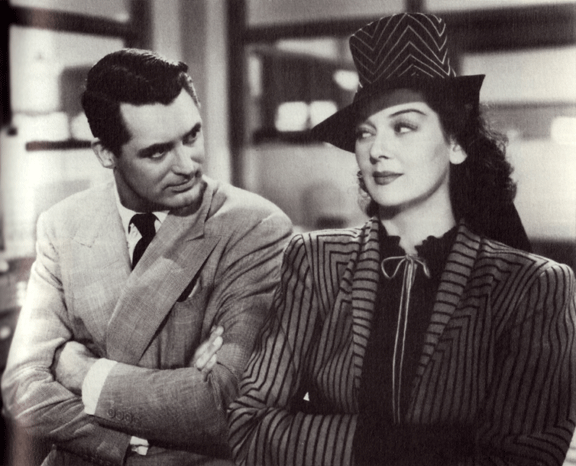 Photo: Life's A Blanket, (l) Cary Grant and (right) Rosalind Russell in His Girl Friday.
Life is a Banquet
Rosalind Russell has always been one of my favorite movie stars – one of those golden age actresses who stood out as a strong, independent, luminous woman. Women like Bette Davis, Joan Crawford, and Barbara Stanwyck made their legendary marks primarily in dramas. Think All About Eve, Mildred Pierce, or Double Indemnity for those larger-than-life ladies of the silver screen.

But with Rosalind Russell, you think... Fast-talking, giving-as-good-as-she-gets Hildy Johnson in His Girl Friday – the epitome of screwball comedy. Or what-a-comedic-genius as Sylvia Fowler in The Women. Or vivacious as ever in the title role of the comedy Auntie Mame.

After seeing Jonathan Gruber's new documentary feature on Russell's life and career, I can only admire her even more. She made her own way in a man's world, and in turn, blazed a trail. She had the right idea: life is indeed a banquet. Just invite yourself.
The Mighty Macs
Immaculata College is not on everyone's radar. But the college holds a special place in the history of women's sports. In 1971, the Catholic women's college in Pennsylvania was on the verge of financial collapse. They did not have a tradition of excellence in women's collegiate sports – of course few colleges did in those days – but their sports program was abysmal even by those standards.

When new basketball coach Cathy Rush was hired, things changed. Rush recruited enough talented, determined women from their campus to put together a respectable team. Actually, they turned out to be more than respectable – they became rather unlikely champions.

The early '70s were, of course, when women's collegiate sports were just getting off the ground. The first NCAA women's basketball championship was held in 1972 – and Immaculata College made one of the wild card berths. The tiny school came out of nowhere to win that very first and thus historic championship.

Carla Gugino (Race to Witch Mountain) stars as Coach Cathy Rush and Ellen Burstyn is Mother St. John, head of Immaculata College. The Mighty Macs was written, directed, and produced by Tim Chambers. As a Pennsylvanian and college athlete himself, Chambers was inspired to write about and produce Immaculata's inspiring story.
Broken Hill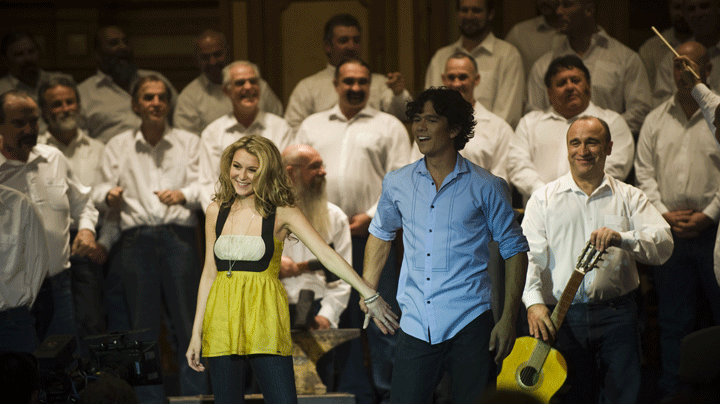 To tell you the truth, I wasn't entirely sure what to expect when I read the description for Broken Hill in Heartland's festival guide. But it did sound interesting with its Australian Outback setting, music theme, and actor Timothy Hutton. And it was.

Broken Hill follows 17-year-old Tommy McAlpine (Luke Arnold) as he struggles to pursue a music composing/conducting career even though he lives on a sheep ranch in the Outback with his widowed father (Hutton).

When he gets suckered into joy-riding vandalism by Kat Rogers (Alexa Varga of Spy Kids fame), a classmate he likes, they end up having to do community service. For that, Tommy, with Kat's help, puts together a prison orchestra – but using indigenous and folk instruments.

When they finally perform at a national prison concert, their music is powerful percussion through and through. The music made for a rousing climax to the film. Writer-director Dagen Merrill is the son of Oscar-winning documentary filmmaker Kieth Merrill.
Pearl
Pearl is aviator Pearl Carter Scott. As a woman and half Chickasaw Indian, Pearl Carter made aviation history by becoming the youngest pilot ever licensed. That was in 1927. In 1934, she quit the skies for good. Famed pilot Wiley Post was her original mentor and they remained friends until his famous death in 1933 when his plane crashed, killing him and Will Rogers.

The film, which is produced by The Chickasaw Nation and directed by Dallas filmmaker King Hollis, follows Pearl Carter from about age 13 to 21. Her birth date was fudged so that she obtained her pilots license at age 14 instead of 16. She also married young, at 16. She did some barnstorming shows as well as business flying around Oklahoma.

Thirteen-year-old actress Elijah DeJesus tackles the title role. Hollis does a nice job taking us back to the late 1920s, throwing in slang of the era and the sense of optimism that helped characterize The Jazz Age.

Most of all, I appreciate this film as the life story of a determined young woman. We need more films focused on women's stories of courage and persistence in the face of all manner of obstacles – not least of which is that films about men still far outnumber films about women.
© 2009 Film Entertainment Magazine / EMOL.org. All rights reserved.
Buy Fandango Movie Tickets Online
Buy advance tickets to the Toy Story 1 and 2 Double Feature in 3D and get points for posters, DVDs and more!
Buy 1 movie ticket on Fandango and receive a second ticket to the same show free when you use your Visa Signature card.
Disney Store
Links to online only deals on costumes and entertainment. Outlet store discounts. Save up to 60% on collectibles. See this weeks deals at the Disney Store
Warner Bros. Store
Shop at the Warner Bros. Shop : WBShop.com
Toys, games, clothing, posters and more from your favorite Warner Bros. characters like Tweety & Superman and from your favorite WB movies like Harry Potter
RealPlayer Plus
It's everything people want in a media player including; pristine audio/ video playback, built-in music store, access to worldwide radio.
Receive RealPlayer Plus free with your free 14 day SuperPass trial.
Hollywood Mega Store
Officially licensed products include celebrities, movies, sports, NASCAR, TV, Marvel, DC Comics and much more. Largest selection of Movie Night & Hollywood Theme Party Supplies, Decor, Favors, and unique items. Very popular Hollywood Trophies. Hollywood and Nostalgic Gift Sets and Gift Baskets. Favored Home Theater Decorations including Reels, Commemoratives, Cinema Lamps and more. Collector items including NECA Action Figures and Head Knockers, Shotglasses, Celebriducks, Tin Signs and Zippo Lighters. Most sought after Posters, Prints and Framed Celebrity Prints. Most popular celebrity, movie and music T-shirts. Hollywood theme T-shirts, Tote Bags and Caps. Very hot JH Design Jackets and Hoodies for men, women, and kids, in all sizes. Celebrity and Novelty License Plates. Rare Vintage License Plates. California Traffic & Street Signs.
MGM Movie Store
Shop for all of your MGM favorites at MGMStore.com - Rocky, Pink Panther, Stargate, and more!
Celebrity and movie clothing, Toys & Games, Jewelry and more from MGM movie titles. Collectibles and Gifts.