Grande Drip's Tasty Fix:
Interview with Producer Emily Moss Wilson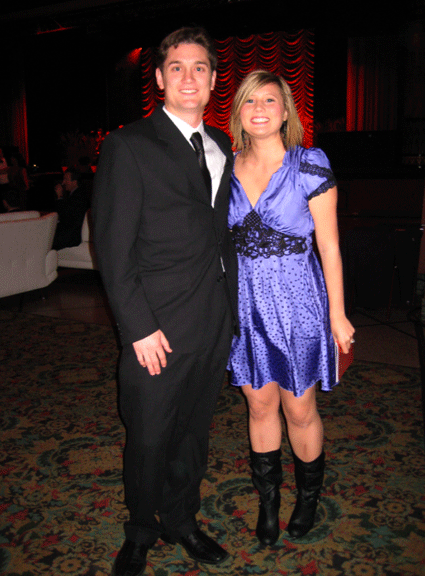 Photo: Greg Wilson and Emily Moss Wilson at Heartland.
"Sometimes you just need a little fix." That's the tag line for Grande Drip – and this winning short film is a 'little fix' in its own right. It's engaging and funny and upbeat, yet with a little social message tucked in neatly.

Grande Drip, written and directed by Angelo Restaino, has that 'little fix' quality about it that was so subtle that I couldn't quite put my finger on it at first, as the credits rolled.

My thoughts first went to the 3 leads: Jamie Martz (Jarhead, Eagle Eye) as Eric, the young man seemingly hopelessly infatuated with Molly; Matt Walker (The Princess Diaries 2) as Keith, the fantastic homeless guy who did not just sit around; and Velinda Godfrey (The Gray Man) as Molly, the smiling coffee shop clerk who we really only get to know at the very end.

It was also fun to see renowned film director/writer/producer Garry Marshall in a supporting role as a coffee shop customer who monopolizes Molly's service while Eric can only watch helplessly. It's a funny scene that sets up Eric as the shy guy who may never get up the nerve to really talk to the woman he admires from afar.

But homeless guy Keith comes to the rescue in his own oddball fashion – because Eric does not just ignore him or badger him or spite him. He might be homeless, but he was the one who took action and made things happen. Perhaps he will find his way, too, after all.

Clearly, a lot of filmgoers at the Heartland Film Festival liked Grande Drip's 'little fix' quality. They considered it high quality. At the end of the festival, Grande Drip was voted Best Short Film in Heartland's audience awards.

Two of the film's three producers, Emily Moss Wilson and Greg Wilson, were at the Heartland Film Festival for its screening of Grande Drip. Jared and I met Emily and Greg at the Filmmakers' Brunch.

Photo: (Left to right) Josh Aufrance, Greg Wilson, Emily Moss Wilson, Velinda Godfrey (Molly), Angelo Restaino
Here is our interview with Emily:
How many people auditioned for the roles of Molly, Eric, and Keith?

We hired two great casting directors, Katrina Wandel and Meredith Fordney. And this is how many people initially submitted for those roles: Molly, 1,123; Eric, 632; and Keith, 164. But we also got 399 for the manager and 451 for Brian (another coffee shop clerk).

So our casting directors had a lot of work. They screened down from these online submissions and brought in 10-20 people for each lead role (Eric, Molly, Keith), where the director and all the producers were in attendance.

How did you get Garry Marshall to act in the film?

Garry Marshall was such an exciting addition to our cast. Greg Wilson, our producer, has worked for Garry for the past 5 years in one capacity or another and that relationship led to Garry's role in Grande Drip.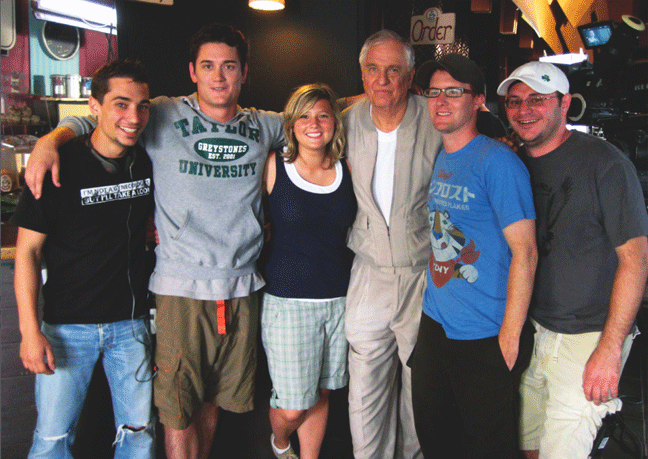 Photo: (Left to right) Angelo Restaino, Greg Wilson, Emily Moss Wilson, Garry Marshall, Ryan Cheevers (producer), Josh Aufrance (co-producer).
How did the project begin?

Greg Wilson, Angelo Restaino, and Ryan Cheevers were all friends and classmates from the LAFSC (Los Angeles Film Studies Center). In 2007, the LAFSC was offering a grant for up to $20,000 for a short film, and the guys decided to enter the competition.
Angelo, Ryan, and Greg had started working on a story and were searching for someone to direct when I met Angelo on the set of a friend's film. We formed a friendship that ultimately led to an invitation to be a part of their core production/creative team. At the time, I was working in physical production at 20th Century Fox and they knew that I had budgeting and scheduling 'nuts-and-bolts' skills that they were looking for at the time.

After being brought on board, I became a part of more creative decisions as well. We ultimately tapped Angelo to direct, believing that he would give 100% to the project and that we were surrounding him with a strong team. Josh Aufrance and Sharon Steinhauser eventually rounded out our core six for accounting and business affairs. We ended up getting 2nd place in the grant competition, which unfortunately meant zero money.

We all decided that Grande Drip was a story that we wanted to tell and vowed to forge ahead, prayerfully, and seek the funding on our own. We were so blessed to receive key financing from executive producers Jeff Silverman and Hugo Perez, which allowed us to go into active pre-production on the film.

Could you tell us something about your festival experiences?

We've really enjoyed the festival experience. We've gained great exposure for our film, met some amazing talents, and traveled to cities we might otherwise never get the chance to see. As you can imagine, we've submitted to more festivals than we've been accepted into, and we've learned not to dwell too much on the ones we didn't make and to embrace the ones we did.

Festivals are very different, especially in their programming. And, when you've got a light-hearted comedy, it's even harder to break through. One thing I wish (and this goes for film in general...listen up Oscars!) is that critics, judges, and selection committees would embrace comedy as much as they do drama. Anyone who does comedy or has tried will tell you that it's just as hard, if not harder than drama, not only to execute in production, but also in audience response. What's 'funny' is so subjective. To find a hit that appeals to broad audiences is truly success.

So far on our journey, we've won two Audience Awards and couldn't be happier about it. Trust me, we would completely welcome jury awards, but knowing that our audience – who came out, bought tickets, and said 'I wanna see that!' – voted for us and allowed us to win awards, means the world to us.

What other projects are you and Greg working on?

Greg and I just finished working on the Garry Marshall comedy Valentine's Day, which will be in theaters Valentine's Day weekend 2010. Greg is currently in post-production on that film, and I've begun working for a casting director while also doing some acting of my own.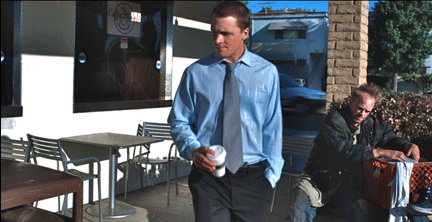 Photo: Keith (Matt Walker) watches to see what Eric (Jamie Martz) does with his coffee.
Outside of those pursuits, Greg and I both write. Greg, Angelo, and Ryan are currently writing Grande Drip as a feature; Greg and I are working on a boyhood coming-of-age script together; and I'm continuing work on a drama pilot that is currently out to a few agents/managers in LA. Our philosophy is to always have a few 'plates spinning' because you never know what's going to take off next.

So you and Greg met while working on Grande Drip?

Yes, Greg and I did meet thanks to Grande Drip. I met Greg right after I met his roommate at the time, Angelo Restaino, on the set of an indie film. Greg and I went on a few dates initially but there was no real spark then. We agreed to be friends, and began actively working on Grande Drip together, preparing for the LAFSC grant competition. Greg was becoming friends with a lot of my close friends, and we were hanging out now both socially and professionally more and more.

It wasn't until Grande Drip went into production that we both became aware of feelings floating around that clearly signaled 'more than friends.' The true moment that brought everything into focus happened on our last day of filming. Greg rescued me from a falling piece of equipment and broke his wrist in the process. One of our production assistants rushed him to the hospital while the rest of us finished up the last few shots. We were all emotionally drained, but had to press on.

In that moment, I realized how special Greg was to me and vice versa. A week later we started dating, and we were married on July 4th of this year. Maybe we can spin this story into our next short!

Sounds like a great story idea! Thank you, Emily, and good luck with Grande Drip.
© 2009-2010 Film Entertainment Magazine / EMOL.org. All rights reserved.
Buy Fandango Movie Tickets Online
Buy advance tickets to the Toy Story 1 and 2 Double Feature in 3D and get points for posters, DVDs and more!
Buy 1 movie ticket on Fandango and receive a second ticket to the same show free when you use your Visa Signature card.
Disney Store
Links to online only deals on costumes and entertainment. Outlet store discounts. Save up to 60% on collectibles. See this weeks deals at the Disney Store
Warner Bros. Store
Shop at the Warner Bros. Shop : WBShop.com
Toys, games, clothing, posters and more from your favorite Warner Bros. characters like Tweety & Superman and from your favorite WB movies like Harry Potter
RealPlayer Plus
It's everything people want in a media player including; pristine audio/ video playback, built-in music store, access to worldwide radio.
Receive RealPlayer Plus free with your free 14 day SuperPass trial.
Hollywood Mega Store
Officially licensed products include celebrities, movies, sports, NASCAR, TV, Marvel, DC Comics and much more. Largest selection of Movie Night & Hollywood Theme Party Supplies, Decor, Favors, and unique items. Very popular Hollywood Trophies. Hollywood and Nostalgic Gift Sets and Gift Baskets. Favored Home Theater Decorations including Reels, Commemoratives, Cinema Lamps and more. Collector items including NECA Action Figures and Head Knockers, Shotglasses, Celebriducks, Tin Signs and Zippo Lighters. Most sought after Posters, Prints and Framed Celebrity Prints. Most popular celebrity, movie and music T-shirts. Hollywood theme T-shirts, Tote Bags and Caps. Very hot JH Design Jackets and Hoodies for men, women, and kids, in all sizes. Celebrity and Novelty License Plates. Rare Vintage License Plates. California Traffic & Street Signs.
MGM Movie Store
Shop for all of your MGM favorites at MGMStore.com - Rocky, Pink Panther, Stargate, and more!
Celebrity and movie clothing, Toys & Games, Jewelry and more from MGM movie titles. Collectibles and Gifts.