Ray Charles movie production notes and movie shots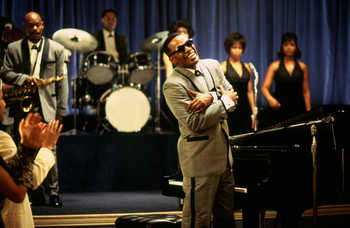 Ray Charles: Introduction To The Man's Life
For many people, the birth of American Soul can be traced directly back to 1954 and the incendiary Atlantic Records single "I've Got a Woman," performed by a rising young artist named Ray Charles.
Mixing the Blues and Gospel in ways that had previously been taboo and mysteriously managing to merge sexual and spiritual, raw and tender, longing and lightness into one unforgettable, heart-pounding sound, the song literally shook the world.
It was the catalyst that lit a fire in countless young musicians who'd never heard anything like it, and the spark that helped set off an explosively creative period in American culture that led to the rock 'n' roll revolution and beyond...not to mention igniting Ray Charles' own 50-year career.
But just as amazing as the sound was the man from whom it emerged. The late musical legend Ray Charles has been dubbed "The Genius of Soul"—but what about the soul of the genius?
While almost everyone knows and loves Ray Charles' music—which would grow to encompass and re-create nearly every uniquely American style from Jazz to Country—few know the real story behind his hard-fought journey to artistic triumph.
---
---
Ray Charles was not only a brilliant performer at his trademark piano, a savvy businessman who took unprecedented control of his career and a musical pioneer who forged a path for others to follow...but he was also a man in search of his own redemption. The same childhood tragedy that inspired Ray Charles to create so feverishly also haunted his every move until he was able to finally face his past.
Says Taylor Hackford: "Ray Charles' life was an absolutely fantastic journey. In this film I wanted to present the complexity of this American genius, warts and all. Ray had immense courage and brilliance, but his life also contained horrible tragedy and elusive demons. With Ray we have tried to show the evolution of an artist through an incredible period of cultural change. I hope people see through this film that Ray Charles is so much more than a musician of the past. He influenced a vibrant, cultural revolution in America that is still going on today."
In an interview a few months before his death, Ray Charles said about the film: "I can see that Taylor's done his homework. He's got my life down pretty good. I would like for the people to understand the trials and tribulations that I've gone through from when I was a little kid up until I really got into my career and all the different things that happened to me over the years. I mean, I've had some wonderful things to happen to me, but yet I've had some pretty dramatic things to happen to me, too. I would like for people to know that you can recover from a lot of adversity that you might have in your life if you keep pressing on—if you still feel you know where you want to go. In other words, you don't give up just because you get knocked down a few times."
Ray Charles was a man of uniquely American contradictions, a dichotomous blend of big-city savvy and back-country simplicity, of sincerity and guile, of shouts and whispers.
He never liked labels or barriers of any kind, so his songs transcended genres, tapping into the whole wide range of American roots music and blurring the separations between Jazz, R&B, Country and Gospel to create something original, exuberant and moving.
It was said that he could just as easily make you dance as break your heart, could evoke joy as deeply as desolation, and sometimes he did both in the same song.
For Ray Charles, life itself was like that...full of pain, trouble and sorrows as well as exaltation, beauty and salvation.
Born into crushing, Depression-era poverty on September 23, 1930 in Albany, Georgia, Ray Charles Robinson fell in love with music at a very young age. He was exposed to both the call-and-response hymns of his Baptist church and the rough-andtumble Blues of local musicians. Before he was five, he was already learning piano.
Then, a series of tragic events altered the course of his life. First, Ray witnessed his brother George's drowning death in an accident for which Ray blamed himself.
Shortly thereafter, a combination of glaucoma and the trauma of watching his brother die caused Ray to progressively lose his sight.
By the age of seven he had gone completely blind and, at his tough but devoted mother's insistence, learned to navigate the world based on his acute sense of hearing and fascination with sound.
He never used a cane, a dog or any other tool he associated with dependency. Instead, with his gifted, wide-open ears, Ray found his own way to approach life as a blind person.
Through it all, music kept him going.
---
---
Later, Charles would write in his book Brother Ray: "I was born with the music in me, that's the only explanation I know of." In the hopes of providing a better future for Ray, his mother sent him 160 miles away to the state school for the blind in St. Augustine, where Ray learned to read music in Braille, studied several instruments and soaked up the local Jazz, Swing, Gospel, Blues and Country scenes.
Tragically, Ray's mother died while he was at the school for the blind and he was left alone in the world. Motivated by his mother's oft-expressed wish for him to become his own man, the teenaged Ray wasted no time.
He began to score gigs in small clubs, dance halls and bars across northern Florida. He even played with a Country & Western band, The Florida Playboys.
Life wasn't easy for a blind, inexperienced teen in this wild, rough-edged world, but Ray grew up fast.
In March of 1948, at age 17, Ray crossed the country alone on a Greyhound bus to make his way on the Seattle circuit as a piano player and smooth-voiced crooner in the tradition of Nat King Cole and Charles Brown.
He quickly became successful enough in Seattle to land a record deal with Jack Lauderdale and his Swingtime Records label.
Ray recorded his first single for Swingtime Records in 1949. Lauderdale quickly put him on the road with R&B guitarist Lowell Fulson—but he was still basically an anonymous musician searching for his own original sound. And it was a lonely existence for Charles.
Although he was recognized by the Fulson band as a talented musician, he was on his own much of the time on the road, spending a lot of hours alone in his hotel room.
It was during this period of experimentation that Ray also discovered something else: heroin.
But his true breakthrough came in the early 1950s when Ray signed to Atlantic Records, recruited by upstart indie music executives Ahmet Ertegun and Jerry Wexler, who were scouting for new sounds.
It was Ertegun and Wexler who put him on the road backing up the legendary "Miss Rhythm," Ruth Brown. Soon, Ray began to try something considered highly controversial: mixing together the churchly passion of Gospel with the more earthly desires of the "devil's own music," the Blues. The result was galvanizing—and so controversial that his early hits were banned by many radio stations.
Controversy or no, the power of his art was undeniable—just listening to Ray Charles stirred people's souls and created a following.
Although it was a time when the phrase "race records" was used to refer to albums by African-Americans, Ray's genrebusting music appealed to a broad cross-section of both white and black listeners.
In his own 1993 book, Jerry Wexler said of Ray Charles' genius: "Ray saw past categories and simply played what he felt."
Now known simply as Ray Charles (he dropped his last name, Robinson, to avoid confusion with the popular boxer Sugar Ray Robinson), he released the ground-breaking "I've Got a Woman" in 1956, with its Blues-tinged lyric of desire set against a spiritual vibe.
This was followed by a string of unforgettable smash hits, including "What'd I Say," "Drown in My Own Tears," "Unchain My Heart" and "Hit the Road Jack." By his early 20s, Ray Charles was being described by those in the business with a word that was then rarely used: he was called "the genius."
In 1959, Ray switched record labels, despite his devotion to Ertegun and Wexler (in fact, he would return to Atlantic many years later). He went to ABC-Paramount, lured by an irresistible deal that allowed him to own his masters.
This groundbreaking deal gave Ray the kind of financial control that no musical artist had enjoyed up to that time.
To his new label's shock, Ray Charles next shifted his style 180 degrees, embarking on an exploration of Country & Western music.
Rather than alienate fans, however, he expanded his audience even farther with such classics as "Georgia on My Mind," "I Can't Stop Loving You," "Born to Lose" and "Busted."
Just when it seemed he'd reached the pinnacle of his career, Ray Charles soared higher.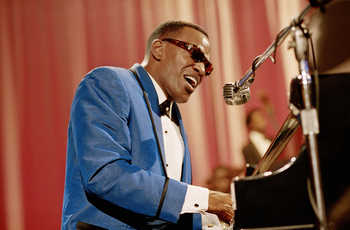 In 1966 Thomas Thompson wrote in his profile for Life Magazine: "The best Blues singer around? Of course, but don't stop there. He is also an unparalleled singer of Jazz, of Gospel, of Country and Western. He has drawn from each of these musical streams and made a river which he alone can navigate."
It was also the 1960s that propelled Ray into becoming an activist for Civil Rights. Touring in the '50s he had learned to shrug off the pervasive presence of segregation and unjust treatment of African-American artists and audiences.
But now he would become the first artist to boldly refuse to play in segregated clubs, a move that cost Ray a substantial amount of money and spurred the state of Georgia to ban him "for life." (In 1977 the State of Georgia issued a formal apology to Ray Charles, the state legislature honored him and they declared "Georgia on My Mind" the official state song.)
Yet the 1960s also brought Ray Charles' chaotic life on the road to a head. His marriage was weakened by his continuing infidelities.
Then, in 1965, he was busted for heroin possession flying into Boston's Logan Airport from Montreal.
Recognizing that his addiction threatened the career and the music he held so dear, Ray decided to kick his two decades-long dependency on heroine and he checked himself into a rehabilitation hospital.
No matter how strong the lure of heroin, Ray's desire to continue making music proved more powerful. He never touched heroin again.
In the wake of overcoming his addiction and facing his worst demons, Ray Charles resumed his career. He continued to tour, playing more than 200 concerts a year until liver disease finally slowed him down last year.
In the 1970s he released one of his most enduring classics: a stirring re-working of "America the Beautiful" that gave the anthem a shot of heartfelt soul and sacrifice that seemed to make the song more powerful than ever.
Throughout his career, Ray Charles earned 12 Grammy Awards, as well as a 1988 Grammy Lifetime Achievement Award. He placed 76 singles on the best-selling charts and recorded more than 75 albums.
He was a Kennedy Center Honors recipient, received the National Medal of the Arts and was an inductee into the Rock and Roll Hall of Fame, the Blues Hall of Fame and the NAACP Image Awards Hall of Fame.
Never forgetting his roots or the obstacles overcome in his triumphant career, Charles was responsible for raising more than $20 million for black charities, education and arts.
Most of all, his influence can be heard nearly every time a song plays on the radio, as his musical inventiveness washed over generations of Rock, Soul, Jazz, Gospel and Country artists. Ray Charles passed away June 10, 2004 at the age of 73.
© 2004-2015 EMOL.org Universal Studios