RAY CHARLES Biography
September 23, 1930 Ray Charles Robinson is born in Albany, Georgia.
1937 A year after his brother drowns, Ray Charles loses his sight.
1948 Ray leaves the South and heads to the jumping Seattle scene.
1949 Makes his chart debut with "Confession Blues" on Swingtime Records.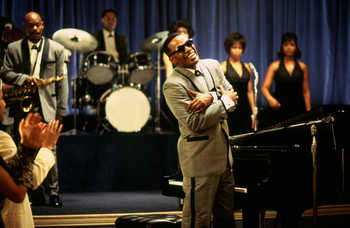 1952 Atlantic Records signs Ray Charles.
1955 "I Got a Woman" hits No. 2 on the R&B charts.
1956 Ray has his first #1 R&B hit with "Drown In My Own Tears."
1959 Leaves Atlantic Records for ABC Paramount.
1960 "Georgia on My Mind" becomes Ray's first crossover #1 pop hit, and garners him his first Grammy Award.
1960 Ray's debut ABC record, The Genius Hits the Road, goes Top Ten.
1962 Modern Sounds in Country & Western Music becomes #1 album.
1966 Convicted of heroin possession and subsequently goes into rehab.
1979 "Georgia on My Mind" becomes Georgia's state song.
1986 Ray Charles inducted into the Rock and Roll Hall of Fame.
1987 Receives Lifetime Achievement Award at the Grammy Awards.
1994 Wins the 12 th Grammy of his career (for "A Song for You").
2003 Library of Congress picks "What'd I Say" as one of America's most significant recordings.
June 11, 2004 Ray Charles dies at age 73.
---
Quite Simply, The Music
The very heart and soul of telling Ray Charles' story had to be his music, which is why director Taylor Hackford decided to evoke the emotions and events of Ray's life as much as possible through the power of his songs.
From the beginning, Hackford had made a list of the key songs he wanted to appear in the film. These included:
I Got a Woman: The song that propelled Ray Charles to fame and forever altered the future of music by melding sacred Gospel to secular R&B and defining a new form called "Soul." The song drew the attention of Elvis Presley when it hit the 1955 R&B charts. It also brewed controversy over the blasphemy of using ecstatic Gospel phrasings in a song about desire.
Drown in My Own Tears: Ray Charles' 1956 smash hit, which was originally written by Henry Glover for the singer Lula Reed. His downbeat, Spiritual-style version had a heart-wrenching effect that made it a classic ballad.
What'd I Say: For many, the definitive Ray Charles sound was captured on this 1959 hit, which showcased Ray on electric piano and was driven by a moaning call-and-response vocal that was pure primal sensuality. The song was at first banned by some radio stations, but in 2003, the Library of Congress chose to preserve this song as one of the most significant American recordings.
Georgia on My Mind: This Hoagy Carmichael standard became Ray Charles' first #1 pop record and later the official Georgia state song. It took Ray in a new direction, using a lush choir and string orchestra instead of the Raelettes to back up his sweet, suave vocal.
Hit the Road Jack: A #1 across-the-board chart-topper in 1961, this song highlighted Margie Hendricks, whose voice bores a hole in the heart as she begs Ray to get out of town. o Unchain My Heart: A funky, soulful rendering of a man begging to be released from a one-sided love affair, featuring Latin rhythm, the Raelette's famous threepart harmony and Ray Charles' emotional vocal effects.
I Can't Stop Loving You: Charles brought his own soulful touch to classic country with this first single off Modern Sounds in Country & Western. The soaring ballad wound up on the Billboard R&B charts for 10 straight weeks, selling more than a million copies.
Next:

© 2004-2023 EMOL.org Universal Studios