Entertainment Magazine: Film: Ray Charles
Loving Ray Charles:
The Women in His Life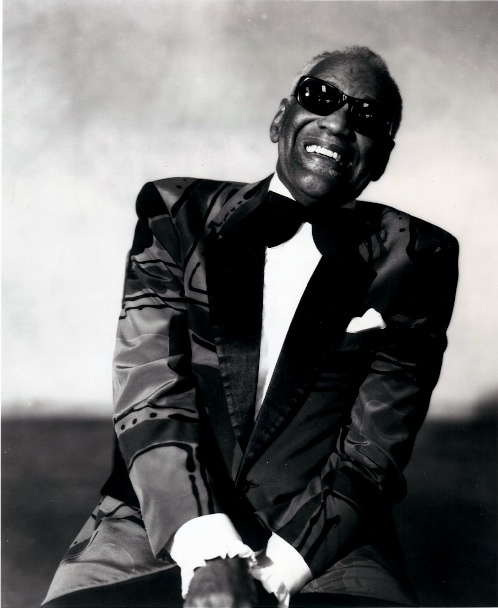 It was said that the only time Ray Charles acted blind was when he was around a beautiful woman. His gift for seduction and romantic escapades were legendary; yet women also played a major role in shaping the man he was and the man he would become.
Four of these women are at the center of Ray Charles life.
Della Bea Robinson, Ray's devoted wife, played by Kerry Washington in the movie "Ray."
Margie Hendricks, the fiery vocal legend from the Raelettes (so named, it was said, because to become one, the women had to "let Ray"), Margie Hendricks is portrayed by Regina King in the film on "Ray."
Mary Ann Fisher, (Marianne Fisher) played by Aunjanue Ellis in the movie, the Kentucky singer who was also known as the "Queen of Blues" before and after she toured with Charles in the mid-1950s.
And one major woman in Ray's life was his beloved mother Aretha Robinson.
The story behind
the story of Ray Charles
Della Robinson
"Della accompanied Ray on this whole incredible journey from having not very much money to overwhelming wealth and popularity," notes Washington.
"She loved him and believed so strongly in his gifts, but there also came a point when she realized she couldn't be with a man who was destroying himself."
For Taylor Hackford, Washington was the perfect choice for the role of the woman who was Ray's foundation and inner strength for many years.
"Kerry captured Della's sweetness and vulnerability but also showed how she became a real rock of a woman," he states.
"Kerry has such an innocent, bright-eyed look, but when you see her go through so much pain and trouble, you see how she becomes the only person who could really talk to Ray." Washington met with the real "Mrs. Robinson" as part of her preparation.
"Mrs. Robinson's a remarkably non-judgmental person," observes the actress.
"She said to me: 'I don't like broccoli, so I don't want anybody to tell me to eat broccoli, and that's why I didn't go around telling people not to drink or do drugs, because everybody makes their own choices, everybody has their own journey.' I saw that she was a very independent and strong woman, and also a very spiritual woman who made difficult choices. I think she loved Ray as much as she could until she saw that this love was taking away from her ability to love herself and her family."
Once on the set, Washington found that working with Jamie Foxx brought new dimensions to her character. "
Jamie turned out to be so talented and committed," she says. "The scenes we had together were very special because they were so intimate.
When Ray was with Della he was able to really show his soul, the essence of who he was, and Jamie did that so gracefully and beautifully, it made it easy for me to respond emotionally."
She summarizes: "To me the story of Ray is about people learning to embrace their own gifts. For Della, it's about learning to love herself as much as she loves Ray, and for Ray it's about forgiving himself enough to stop running from his demons. I think it's an important message—and behind it all is the power of Ray's music. I now own every single Ray Charles CD ever made!"
Next: Regina King
---
Margie Hendricks
Margie Hendricks had started out in the '50s all-girl backup band known as The Cookies, but soon added a magic touch to Ray's 1960s recordings, counter-pointing Ray's mischievous baritone with her own evocative, belted voice.
"There's very little written about Margie Hendricks," notes King, "which is pretty amazing because she had one of the most unique voices ever in American music. I think in many ways she was Ray's Muse. He heard in her voice that church-like sound that inspired him to mix his own Blues into it and create something new. When I read the script and remembered her voice, I knew I wanted to play her because there is something very powerful and real about her."
Margie Hendricks' attraction to Ray, and Ray's attraction to Margie, had everything to do with the music, says King.
"Their passion for the music is what brought them together and kept them together as long as they were, but they were both reckless people back then, and when she started to drink their relationship burnt out. Yet I think he really loved her—he was a human being like the rest of us, brilliant as he was—and she was an important part of his life."
Taylor Hackford was impressed with how King brought the role of a woman few really know so richly to life.
Regina King
Regina King had a very different challenge in playing Margie Hendricks, another of Ray Charles' influential lovers in the movie "Ray." As his mistress and tremendous singing talent in her own right, Margie Hendricks, who tragically passed away of a drug overdose after she had left the Raelettes.
"Regina bowls you over in the same way that Margie Hendricks must have bowled people over. As an actress, Regina is better known for her fun, comic personality but here, she gets down; she's earthy and tragic and I thought her performance was fantastic."
---
---
Photo: Ray Charles © 1993 Warner Bros. Records. Photo credit by Mark Hanauer.
From the film, Ray Charles.
© 2004-2023 EMOL.org Film Entertainment Magazine. Universal Studios