Entertainment Magazine: Film: Ray Charles
Loving Ray Charles:
The Women in His Life
Mary Ann Fisher
Mary Ann Fisher, who, according to Charles' autobiography, served as his inspiration for the songs "Mary Ann," "What Would I Do Without You" and "Leave My Woman Alone"—joined Ray on tour in 1955 and performed vocals in the act even after the 1957 addition of the Raelettes; she left the band (and her romance with Charles) in 1958.
"One of the things I found really interesting about Mary Ann," supplies Aunjanue Ellis, who portrays her, "was that her involvement in Ray's life and his music played an influential role.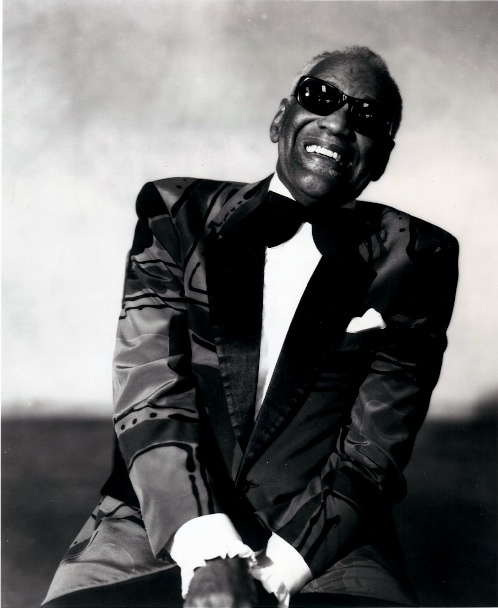 She was there just when his sound began to expand to include female vocals—and also when his attentions began to veer away from his wife and marriage.
She was one of the first talented singers whose life and art became professionally and personally intertwined with Ray's."
Aunjanue's performance as the feisty Mary Ann registered strongly with Hackford, who says, "Aunjanue is remarkably adept at bringing out a whole range of Mary Ann's colors in a relatively brief space of screen time.
She's incredibly sexy and memorable in the role." But perhaps the woman who most weighed on Ray Charles' mind throughout his life was his mother, who would not allow her son to get discouraged by his blindness for even a second.
She once told him, "You're blind, not dumb; you lost your sight, not your mind."
Taking on the role of Aretha Robinson is actress Sharon Warren, who prior to being cast in Ray had worked primarily in Southern regional theater.
More Ray Charles women: Della Robinson, Regina King and Margie Hendricks
Hackford remembers the serendipitous nature of casting the woman who would bring Ray's mother to life and says, "During our search to find an actor to play the young Ray, a woman walked into our office in Atlanta, Georgia. She had a headshot, but she didn't even know what movie we were making.
She had a lot of charisma, a lot of energy. I gave her a couple of pages of dialogue, she looked at it for 15 minutes, and then I put her on tape. While we were taping, I thought, 'My God, this is Aretha.' I hadn't been able to find an actress who could embody what Ray Charles told me his mother was—a bone-thin person who had died when she was 31, but who had incredible fierceness of spirit, incredible strength. He gave her credit for who he was in life.
He said, 'This was the most important person in my life.'
That's a heady recipe to have to satisfy. And Sharon Warren walked in off the street—that is a Cinderella story."
Hackford had later played a scene for Charles involving Warren, where the words scripted for the actress had come directly from Charles' memory of Aretha. He says, "He was listening in his inscrutable way, and then he started talking to the screen, saying, 'Yes, that's right. That's the truth.'"
Warren dove into the role by doing as much research as was possible into a woman who died, tragically and anonymously, in her early 30s.
"The greatest help I received in creating this character was my 87-year-old grandmother, Annie Lou Gould Walker, who shared her life stories about the rural South during those times.
Unfortunately, my grandmother died just before I began working on Ray. I am also eternally grateful to Ray Charles, Jr. for the intimate portrait he shared with me of his grandmother and her life. I also gained great insights from screenwriter James L. White and valuable advice from director Taylor Hackford.
"Aretha's history is very mysterious," she comments. "What we do know is that she was very, very poor and very frail. She washed clothes to make money because that's the only thing she could do. She worked hard to provide for her children, because she loved them.
When she lost George and Ray went blind, she still did not give up. She was determined to prepare Ray to take care of himself, despite his blindness."
Warren continues: "She demonstrated 'tough love' for Ray because she knew that, if he was going to survive in the world, he was going to have to be extremely strong.
She knew what it was like to be an outcast, to be seen as a cripple and she didn't want that for her son.
The more I thought about her and what she went through, the more I wanted to give as authentic and powerful a performance as I could, so this woman would be known to the world."
Read more about Ray Charles
---

---
Photo: Ray Charles © 1993 Warner Bros. Records. Photo credit by Mark Hanauer.
From the film, Ray Charles. Universal Studios
© 2004-2015 EMOL.org Film Entertainment Magazine.