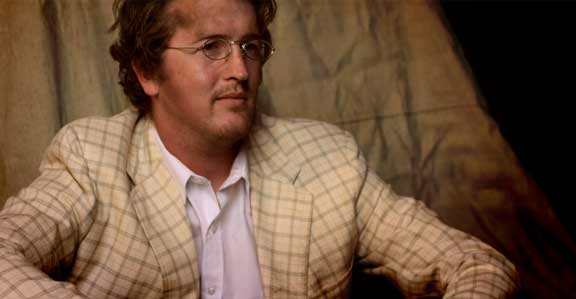 By Madelyn Ritrosky
It's the 1930s... the Great Depression... desperate times, desperate people.
Good people... hope and faith in the future. They are Fortune's Favored.

Filmmaker Daniel Lahr is a native of Santa Barbara County, graduated from the Academy of Art University in San Francisco with a BFA in filmmaking, and won the 2008 Santa Barbara International Film Festival's 10-10-10 student film competition.
It's no surprise, then, that Lahr's new short film, Fortune's Favored, had its premiere screening – as he hoped – at this year's SBIFF. After a tough 2011, with both of his grandfathers passing away, Lahr said this is a wonderful start to 2012.


And so it is. For Fortune's Favored is a wonderful short film set during the Great Depression about a man named Charles returning home after work on the Golden Gate Bridge finished in 1937.
The film has great acting, a realistic historical setting, an inspiring story, and excellent writing, directing, and cinematography.
Lahr made the film through his own Country Studios – on a shoestring budget.

Fortune's Favored has the aura of a feature, sprinkled with touches of inspiration and hope that keep you wondering – in just 22 minutes.
In other words, one can easily imagine this as a compelling feature film about the 1930s. When asked about that possibility, Lahr replied, "I know what I'd love to explore with a real budget..."

The audience for the short film is young and old, though it's not a kids' movie. And that's the filmmaker's goal – "to make movies that anyone can enjoy." Daniel Lahr sat down with us and delightfully shared how Fortune's Favored came to be.


The script originated in a class at the Academy of Art, with Lahr's teacher encouraging him to film his script.
"I definitely wanted something set in the Great Depression, because it's not too far in the past and people can still relate to it," he said.
"Yet it's far enough away to feel like a different time and place, where these characters have no modern conveniences."

Lahr noted that the characters purposely have rather generic names, to signify they are everybody or could be anybody – hopefully another way for viewers to relate to these characters, the tough times, and their predicaments. Thus, you have Charles, Henry, Walter, and Mr. Price.

"The history was actually the fun part of making it," Lahr explained. He made a World War II short film, End of a Rope, in 2007 for $500. Fortune's Favored is his highest budget yet – at $2,000. "Hopefully people will see that I made Fortune's Favored for very little and will have faith in funding me for my next epic endeavor," Lahr noted. He praised the KickStarter.com website for setting up an easy way for friends and family to donate, enabling him to reach his $2,000 goal.

Most of that budget went to building the store facade on his grandparents' ranch in Los Alamos in northern Santa Barbara County.
It was that grandfather who was part of the inspiration for the Charles character and who died before shooting began in August 2011.

Casting the primary roles was pretty easy.
Timothy Prindle (Charles), Richard Hoag (Walter), and Rick Mokler (Price) all appeared in Lahr's 2008 winning student film, Metal Detector Man, with Lahr's friendship with Prindle going back to 2002.

Art direction was also easy. It was Lahr's fiancée, Amberly Fawn Anderson. Having studied interior architecture and design at the Academy of Art, Anderson designed the store set, researched wardrobe, and found the car. Through a friend, Lahr rented a RED HD camera for a special weekend rate – though they still had to rent costly lenses. The only scene filmed elsewhere was the opening boxcar scene, shot at the San Luis Obispo Railroad Museum.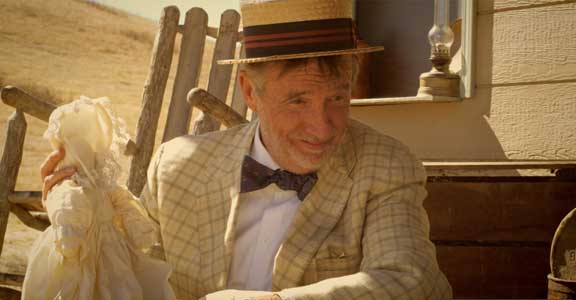 "I wanted it to be like an onion, with layers, where there's sort of a mystery," Lahr said.
"With Walter, there are all those subtle connotations of angelic qualities, like not needing shoes, the almost magical satchel, knowing comments about Charles and his family."
He also noted the cross design on the store's door.

There were two things regarding the Walter character that made me wonder: when you see older Walter for the first time in the second scene, where Charles arrives at the country store, Walter's clothing seems strangely similar to that of a younger man in the first scene, where Charles gets mugged and thrown from the boxcar. And in the end credits, a separate "Young Walter" is listed, with Daniel Lahr's name next to it. You have to stop and think...

Lahr explained: "I was 'young' Walter – wearing the same jacket and hat – because he's a guardian angel, bringing Charles to a new person, Henry, who's running the little store. He's also helping Henry by bringing Charles there. We just didn't see that storyline."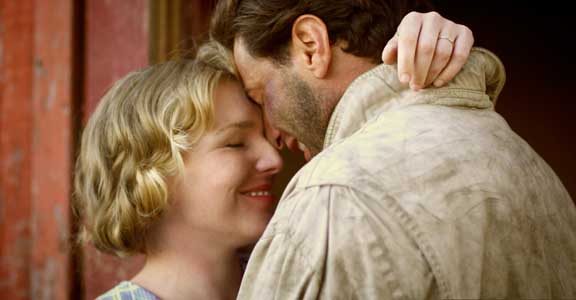 Interestingly, Lahr said a blind script review done during his class suggested removal of both Walter and Henry because they didn't generate enough conflict.
Wow... the Depression setting and two scenes with violence (the mugging and Price stopped from burning his own store) certainly provide enough conflict.
Walter lends mystery and a sense of wonder, while Henry gives hope for friendship and possible partnership with Charles.

Lahr wants to paint a hopeful future. He said his back story was that Charles and Henry do become partners in the country store. He also said, "I like having fun when I go to the movies and feeling good when I walk out of the theater." He wants viewers to feel that way about his films, to feel hopeful about the future.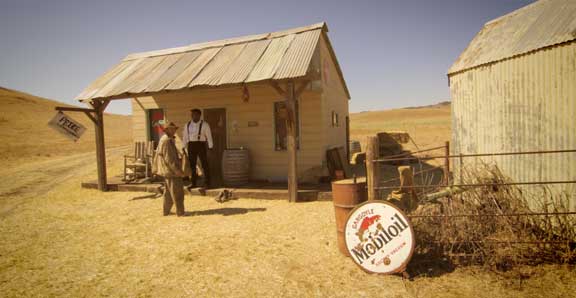 "I love how resilient the human spirit is, and I wanted to make a film that showed people can still find good fortune all around them, if they just know where to look. The power of family, faith and friends can lead us through the darkest hours in our lives, to see the sun come up again. So these characters may not be rich in wealth, but they are indeed favored by fortune."

And that is what you feel with Fortune's Favored. Thanks to Daniel Lahr. With our own times getting tougher – the Great Depression could be revisited – it's important to be reminded that good people and good intangibles like faith, hope, and determination can always sustain us.

Visit the Fortunes Favored web site: http://www.daniellahr.com/fortunes-favored.html