Rocky Point to host the 2009 Wildcat Invitational
Puerto Peñasco will host the women's amateur golf tournament for US universities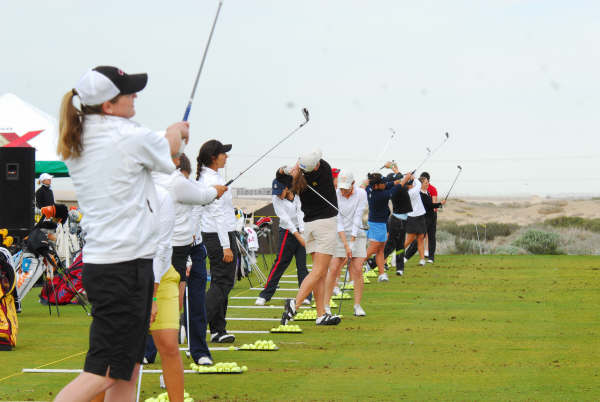 Puerto Peñasco, Sonora, Fl; February 18th, 2009— Puerto Peñasco, also known as "Rocky Point," is excited to host the women's amateur golf tournament for US universities, this weekend, February 20th through the 24, 2009.
This will be the first time in history that this important event is held outside of the United States. The Peninsula Golf Course, designed by Jack Nicklaus, will welcome the "Arizona Wild Cat Invitational" which traditionally has been held in Tucson, AZ for the past 20 years.
The tournament will welcome 90 young golf amateurs who hope to compete in the 24th Ladies Professional Golfers Association (LPGA).

This event, unique in the history of golf in Mexico, will gather 18 of the best female college golf teams from prestigious universities across the U.S including UCLA, New Mexico, Nevada, Stanford, Duke, Washington and Arizona among others.

"We are very excited that the Peninsula Golf Club has agreed to host the 2009 Wildcat Invitational," said head coach Shelly Haywood from the University of Arizona and former professional golfer. "I am overwhelmed with the enthusiasm and excitement I have seen here today." She also highlighted that Puerto Peñasco was selected given its tremendous hospitality and the affection she and her country women have for this beautiful beach destination.

"The opportunities the golf market represents for Puerto Peñasco are endless. Golf is among the top sports followed by Americans and Puerto Peñasco has state of the art facilities to tailor to the most discerning players" said Epifanio Salido Pavlovich, State Coordinator for the Promotion of Tourism.

The 2009 Invitational is a 54-hole event contested over three days playing to a par 72, 6,345 yard layout.

Ten of the 1B teams in the field are ranked in the top 25 of the November 5 Golfweek Sagarin Performance Index ratings, including the top three teams in the nation. The field includes (ranking): Arizona State (1), UCLA (2), USC (3), California (1B), Duke (B), New Mexico (34), New Mexico State (BB), Pepperdine (11), Stanford (19), Denver (15), Oklahoma State (6), Tennessee (4B), Tennessee-Chattanooga (40),Tulsa (57), Tulane (61), UNLV (36), Washington (33) and host Arizona (24).

The event will include a Golf Clinic to the children of Puerto Peñasco, given by some of the top players from Arizona, Arizona State and New Mexico among others. The clinic, being held on Saturday February 21st prior to the competition, is targeted for children ages 8-12 and will prize those kids with good grades. Nike is also donating equipment, apparel and golf balls to these special children.
The Peninsula golf course opened in 2006 and is the nearest ocean side golf course to Arizona, only 3.5 hours drive from Phoenix and Tucson. A product of the unbeatable creativity of Jack Nicklaus and Jack Nicklaus II, the 18 hole par 72 course plays from 5,300 to 7,100 yards in length with splendid fairways and abounds with native desert vegetation. It is a uniquely challenging course that is completely surrounded by water. Almost every hole has a marvelous wind-swept view of the Sea of Cortes or the natural estuary.
FEBRUARY 22-24, 2009 PAR 72, 6,146 YDS
Opening Ceremony - Saturday, February 21
The University of Arizona hosted an opening ceremony for players and the children of Puerto Penasco with a clinic and shot-making demonstration. U of A coach Shelly Haywood, Mayan Palace General Manager, Sr. M. Alcocer, and Peninsula De Cortes Director of Golf, Andrew Gilchrist announced a donation of junior golf equipment through the courtesy of Nike for the children.
One player from each of the seventeen teams participated in the demonstration, highlighted by a golf ball juggling contest among ten players who thrilled the audience of 200 with their talents and clowning.
Then, all the children received either golf clubs or a gift package.

First Round Results- Sunday, February 22
Temperature 65 degrees, winds west at 14 mph. UCLA vaulted into a quick eight stroke lead with a one-under par, four player total of 287. Arizona State sits in second place with 295, followed by Denver at 296 and two teams at 299, Oklahoma State and Tulane. Juliana Murcia took the first round lead with a five under par 67, the competitive course record on the Jack Nicklaus Signature Peninsula De Cortes course. Closely following are UCLA's Stephanie Kono and Cal's Pia Halbig with three under par 69's.
Other players returning scores under par were Glory Yang of UCLA and Linn Gustafsson of Tulane with 71's. New Mexico's Jodi Ewart, Tulane's Ashley McKenney (Scottsdale) and Maria Jose Uribe finished with even par 72's.

Second Round Results - Monday, February 23
UCLA retained it's first round lead by posting a two day total of 582, but their 7-over par 295 second day allowed Ariziona State to close to three strokes at 285 thanks to a two-over par total of 290 in the second round.
USC closed to seven strokes with a one-under par 287, followed by Pepperdine with a three under 285-590 total. Oklahoma State stands at 592 and Tennessee at 596 still within striking distance.
Best rounds today were turned in by Nikki Koller of Arizona, Carlotta Cignada with 3-under 69's; Jayvic Agojo and Lisa McCloskey, both of Pepperdine had 70's, while 71's belonged to Jennifer Osborn of ASU, Kim Donovan of Duke, Caroline Masson of Oklahoma State, and both Lizette Salas and Belen Mozo of Southern Cal.
Juliana Murcia of ASU, the first day leader, now stands at 2-under 142, tied with Pia Halbig of Cal for the lead. One stroke behind at 143 are Carlota Cignada of ASU, Jodi Ewart of New Mixico, and Stephanie Kono of USLA. Caroline Hedwall of Oklahoma State and Lizette Salas of USC are at even par 144.
Tuesday's final round will begin play at 8:00am. FEBRUARY 22-24, 2009 PAR 72, 6,146 YDS

About Rocky Point
Puerto Peñasco, also referred to as Rocky Point, is located in the State of Sonora in Mexico- 66 miles from the U.S. border (at Lukeville, Arizona) and on the Sea of Cortez. Rocky Point is a scenic 4-hour drive from Phoenix and Tucson, AZ. Rocky Point started as a fishing village in the 1930's and gradually developed into one of the major shrimp producing areas in the Sea of Cortez.
Rocky Point offers a variety of activities from parasailing to deep sea fishing to shopping and Pinacate Tours and has an abundance of vacation rentals both on and off the beach. It recently welcomed a Jack Nicklaus Signature Golf Course (located at Laguna del Mar) as well as the Mayan Palace Resort and Las Palomas Beach & Golf Resort.
For more information, visit www.cometorockypoint.com and http://www.gotosonora.com
About the Mexico Tourism Board
The Mexico Tourism Board (MTB) brings together the resources of federal and state governments, municipalities and private companies to promote Mexico 's tourism attractions and destinations internationally. Created in 1999, the MTB is Mexico's tourism promotion agency, and its participants include members of both the private and public sectors. The MTB has offices throughout North America, Europe, Japan and Latin America. For more information on destinations and online trip bookings please go to www.visitmexico.com.