Mt. Lemmon is a rare jewel in the Arizona desert. Jutting up 9,000 feet above sea level in the Santa Catalina Mountains north of Tucson, Arizona, this magnificent mountain peak stands amidst the pale backdrop of the sparse desert sand and cactus. Visit Mount Lemmon.

The foothills of the Catalina Mountains north of Tucson begins the hourlong journey to the top of the hill known as Mt. Lemmon. As your car crawls, often only 25 miles per hour on a winding two lane road, you are transported into a geological time warp.

Mt. Lemmon is probably the most popular getaway for Tucsonans and visitors, especially during the hot summer when temperatures in the valley often remain over 100 degrees F. for several months. It's no wonder that probably everyone who has lived or stayed in the area has been to Mt. Lemmon at one time or another.

To some, it is a regular pilgrimage several times a year. From the base of the mountain range, all the desert plant and wildlife co-exist among the ever creeping metropolitan city limits. Saguaro cactus abounds standing tall against the backdrop of the enormous mountain range.

As you drive up the winding road, since the construction for enlargement, you gain a sense of awe as you watch the desert slowly turn into brush, then into an array of windblown rock formations and finally into the midst of a deep forest of pine and fir. If you visit in the winter, be sure to bring your ski equipment or snow tires.

The busiest times to visit Mt. Lemmon are weekends (of course) between 11am and 4pm. The earlier you arrive, the better parking and picnic areas your find. Less travelled days are weekend mornings and many weekdays.

Fees to Use Facilities: The U.S. Forest Service now charges a fee for those who plan to travel up the mountain. Residents and employees on the mountain are exempt from the new fee. This fee is expected to help improve and preserve some of the area, according to U.S. Forest Service reports. Mt. Lemmon passes are $5 per day per vehicle. The annual pass is $20.

Video Clips, Virtual Reality
Summerhaven and Mt. Lemmon Photos

Videos, pictures, links, shopping. Watch video clips and see new video photos of Mount Lemmon and Summerhaven!

What to do when you get to the top of the mountain. Stores, restaurants and sites to see.

The winter 2008-2009 snowfall season at Ski Valley. Hours, information and resources. RSS weather reports.

Continuously updated RSS weather reports on Mt. Lemmon and driving conditions from weather.com

Mt. Lemmon Internet links. Hiking spots, camping, Forest Service information, road conditions, etc.

---

Where is Tucson, Arizona?

Tucson, Arizona (approximately 2,400 feet above sea level) is just 60 miles north of the Mexico border and about 150 miles south of the capital city, Phoenix- and about 500 miles east of Los Angeles and the ocean). Tucson is one of the last of the wild frontiers, being the oldest inhabited city in North America (inhabited first by the Hohokam Indians around 100AD). The valley is home to a half million people who dwell in this Southwestern U.S. desert environment. Visit EMOL's Tucson Home Page with maps, history, current events and home pages for dozens of groups and businesses.
More Photo Tours: Northern Arizona, Superstition Mtns., San Xavier Mission

(c) 1998-2010. Entertainment Magazine All rights reserved.
Check out what's on Sale at Camping World! Hundreds of Items - Huge Savings. See the Sleep Number Bed at Camping World. Find this week's free shipping deals and coupons.
Jewelry and Rock Art from Mt. Lemmon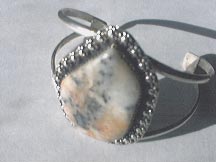 Flint Carter is one of the few artists who create their work from finding the stones, cutting, polishing and fabricating. All jewelry and art work materials are from Mt. Lemmon and the Santa Catalina Mountains.
With a large collection of high grade ore that has been accumulated over the decades, he has fashioned it into dozens of artist creations- jewlery, polished stones and desert rock art. Read about Flint Carter's work, the legend of the Iron Door Mine and other stories of the Old Southwest. Call Flint at 520-289-4566 or email [email protected].
by Mary Ellen Barnes (Author)
As you wind your way up the Catalina Highway, it doesn't matter whether you're a first-time visitor or a native Tucsonan; you know you're on the way to someplace special.

The Santa Catalina Mountains first captivated Tony Zimmerman on a 1937 hunting trip. Regard for the alpine beauty must have been in his genes—he was the son of Swiss German immigrants—and by 1940 the Tucson schoolteacher had begun taking his family to Mount Lemmon to spend the summer. Back then, the road up the mountain was a rough two-track dirt road from Oracle, and Summerhaven was nothing but a sleepy cluster of summer cabins. But Tony Zimmerman was to help change all of that.

The Road to Mount Lemmon is a beguiling memoir of the Catalina Mountains told by the daughter of one of the pioneers in the life and development of Mount Lemmon's communities. Mary Ellen Barnes tells how her father Tony resigned from teaching in 1943 to devote his career to the development of this mountain oasis. He not only sold real estate for long time landowner Randolph Jenks, he even bought the village's tiny two-room store, installing a sawmill to build a larger store, and built the Mount Lemmon Inn. And as she spins Tony's personal saga, she also gives readers a glimpse of the Catalinas before Tucson became a boom town, recalling idyllic adventures in wild country and the cowboys, rangers, ranchers, and loggers who worked there.

Product Details
Paperback: 224 pages
Publisher: University of Arizona Press (June 11, 2009)
Squeezing the Lemmon II
...more juice
than ever
A rock climber's guide to the Mt. Lemmon Highway, Tucson, Arizona, by Eric Fazio-Richard. 324 pages. Publisher: E Squared Enterprises; 1st ed edition (2000)
Frog Mountain Blues
(Paperback)
by Charles Bowden,
Jack W. Dykinga (Photographer)
Man Climbing Rock at Sunset, Mt. Lemmon, AZ
College Photographic Poster Print by Greg Epperson, 16x12
Southern Arizona's Santa Catalina Mountains (Map)
by Frank Lister
Publisher: Guia Roji SA de CV; 1 edition (April 1, 1999)