Entertainment Magazine: Travel: Disney Parks
Disneyland and DisneyWorld Vacation Deals
New Vacation Package Offers Fall Savings at Disneyland Resort
Stay and play in the heart of the magic and save $400
Value-minded vacationers have plenty to celebrate this fall with a special travel offer: savings of $400* at the Disneyland Resort in Southern California.
From Aug. 12 through Dec. 19, 2009, guests will save $400 when they book a 4-Day/4-Night Disneyland Resort vacation package, featuring Disneyland Resort hotel accommodations - Disney's Grand Californian Hotel & Spa, Disneyland Hotel and Disney's Paradise Pier - and park hopper tickets. Pricing starts as low as $87 per person, per day, at Disney's Paradise Pier Hotel. Find out details about this vacation package offer.
How to get a free admission ticket on your birthday
Disney Parks, which includes Disneyland in California and DisneyWorld in Florida, are running two special promotions for the 2009 holiday vacation and travel season.
To receive free admission to one of the Walt Disney World or Disneyland theme parks on your birthday in 2009, first register online with Disney. Bring valid ID, including proof of birth date. The free admission to a Disney Theme Park on your birthday offer is only valid on the day of your birthday in 2009. Read more about the free birthday admission ticket and how to register.
To get two free nights at Disneyland Resort, purchase a three-night Disneyland Resort vacation package this summer, guests can magically extend their visit with an offer worth celebrating: Get two more nights free!

For guests who wish to visit free on their birthdays, and also take advantage of the paid summer treat of two more nights free, the DisneyResort offers a selection of birthday treat options available with the packages.
More Disney Parks News
Guests to Disney Parks on both coasts are in for some eye-popping spectacle. Thanks to new lighting and special effects packages, glistening snow blankets Sleeping Beauty Castle at Disneyland while Cinderella Castle at Walt Disney World Resort is bathed in shimmering cascades of ice. Continue reading...
Disneyland Salutes 40th Anniversary of 'it's a small world' and One of Pop Culture's Most Enduring (and Un-Ending) Song Hits. Purchase the CD online (5/25/06)
The Countdown to July 17 and the Actual 50th Anniversary of Disneyland Park Has Begun!
'Live With Regis and Kelly' Travels to Walt Disney World Resort: May 9-13, 2005
Also visit California and Florida through Entertainment Magazine. Get the current weather, find restaurant coupons and other speials to make your visit more enjoyable.
Disneylandvacations and disneyworldvacations are popular search words to find Disneyland and Disneyworld.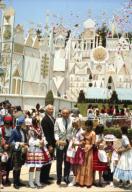 Visit Florida
Visit California

---
---
© 2009-2012 EMOL.org. Entertainment Magazine. All rights reserved.
Disneyland & DisneyWorld Vacation Packages
Bundle the costs of your entire vacation with air and hotel for one single price and get a discount. Southwest Airlines Vacations offers both flight, hotel and attractions. Travelocity and Priceline will include flight, hotel and other needs, like car rentals or show tickets, in one package.
Travelocity Disney Deals
Walt Disney World
Orlando, Florida

Disneyland ®
Anaheim, California
Southwest Airlines Vacations Disney Promo Codes
Bundle air flight from SW and hotel, plus add attractions for one low price from Southwest Vacations.
See Disney Southwest Airlines Vacations
package deals and promo codes
Priceline Disney Deals
More Ways To Save on Disneyland Travel!
Priceline customers have saved more than $5.7 billion on their travel purchases. No other major travel site gives you more ways to save than priceline. We're always working to find you the best deals and stretch your travel dollar to the max. Name Your Own Price®. Buy a Package and Save. Shop And Compare Prices. "More Ways To Save" Trip Tips. Los Angeles Hotels - Save up to 40%
.
More Priceline online deals.
Alaska Airlines Flight & Hotel to DIsney
Alaska Airlines Current Disney Deals