The economy has drastically impacted the timeshare presentation market. Most of the major time share companies have replaced their traditional timeshare structure with a
The timeshare industry has re-packaged their promotions and now prefer to offer vacation packages without the hard sell for membership or club deals. Instead, the major timeshare players have shifted their marketing to non-commitment offers with more travel flexibility.
These vacation packages are priced comparably with the cost of a typical timeshare commitment from Wyndham, Hilton, Hyatt, Marriott and other major brand chains.
This reduces the inconvenience of those multi-hour presentations just to get a two night promotion.
This reduces the risk and commitment of a long term agreement. With a the downturn of the timeshare industry, vacation packages have become a better, low cost, option.
Vacation Rentals
Home Exchange is the fast growing vacation alternative to experience an area as a local, not a tourist, and save thousands of dollars in the process. The concept is simple, "You stay in my home while I stay in yours." FREE. Learn more...
Vacation Home Rentals is a leading brand in the exploding online vacation rental industry. Their web site provides a meeting ground for a broad spectrum of vacation rental property owners and an active stream of travelers interested in renting those properties. Need a Vacation? Rent a Private Villa, Home, or Condo. Check inventory at VHR.
VRBO Rent by Owner
is the largest for rent by owner website connecting travelers to great vacation rental accommodations, more than 80 million travelers visit our website each year searching for the best rental properties. That makes listing vacation properties on VRBO.com the best option available. Rent it Out!
Timeshare & Mini-Travel Packages
Timeshare Mini-vacation packages available
While most resorts have abandoned the time share ownership market, one time company, Diamond Resorts International®, still offers the standard timeshare vacation package.
Diamond Resorts sells vacation ownership, sometimes called timeshares, as well as mini-vacations.
The Diamond Resorts website features nine mini vacations. These mini vacations are discounted when guests take a timeshare tour to receive the discounted package.
To be eligible, guests must check in at their location and attend a 120 minute seminar on buying a timeshare.
Diamond's vacation packages are available for destinations in Orlando, Kauai, Maui, Lake Tahoe, Las Vegas, Scottsdale, Sedona, Branson and Williamsburg.
Cheaper vacation packages now fill the gap in time shares
Travel industry companies now find it more profitable to sell packaged vacations to their properties instead of pushing ownerships.
They have a lot of rooms to fill- whether it's from a discounted vacation or an ownership sale. If a room is empty, it is a money loss every day it is empty.
Popular vacation spots like Las Vegas and Orlando, Florida once had the best offers available. Now, timeshare promotions in Las Vegas and Orlando have all but disappeared. Many of those timeshare packages are being marketed as vacation packages. This has also brought about newer locations like Arizona and Hawaii as choices.
Our research staff has found new offers for vacations that have replaced the traditional timeshare presentation which often required attendance to a high pressured sales pitch.
When you bundle your flight and hotel together, the cost can be reduced by a big percentage. These links go to popular travel agencies that specialize in vacations. See selected vacation Air + Hotel Bundles.
Timeshare bankruptcies tank industry
The economy has taken a fatal hit on once popular realestate time share investments. The recent casualty is the Las Vegas Tahiti Village owners Consolidated Resorts, Inc. On Tueday, June 25, 2009, Tahiti Village filed for bankruptcy protection.
The biggest time share developer in the U.S., Wyndham Worldwide Corp. had a sales plunge of $289 million in the first quarter of 2009. Marriott international Inc.'s vacation ownership lost $17 million.
Timeshare ownership was considered a good investment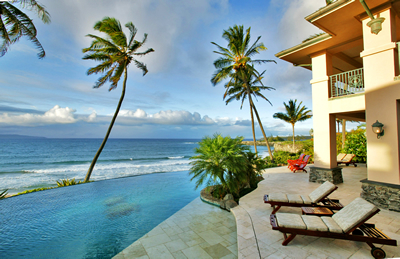 Vacation packages are an affordable way to have a discounted vacation at luxury hotels and resorts. Time share presentation attendance is often required as part of the package. The benefit is the extremely low rates, top service and accommodations.
Timeshare vacation ownership was born in the '60s, the age of the commune. When you buy time shares, you buy time and you share a vacation property, whether condo, home, or boat. If you buy a timeshare, you're getting tomorrow's luxury resort vacation at today's prices--in perpetuity.
As the timeshare business has evolved, it's become more complicated, though the premise remains the same: the timeshare owner buys tomorrow's luxury vacation in a highly desirable location today, reducing the cost of future vacations to a low timeshare maintenance fee.
In order to tap the vacation market, timeshare developers use promotion strategies. They offer inexpensive vacations in resort areas to tourists willing to attend timeshare presentations as a part of their vacation package to encourage you to buy a time share. It's a win-win approach to buying and selling.
Timeshare prices and costs
Time of year and desirability of location determine your purchase cost, with average prices ranging from 7K for studios to 13K for a three-bedrooms, according to timeshare giant RCI. You'll pay taxes, cleaning and maintenance fees, and annual dues whether or not you use the property. Your timeshare will be affiliated with an exchange company, so you can trade your vacation time and location for another of equal value, if you choose. You'll pay a nominal exchange fee.
Timeshares: buying time
Timeshare time can be floating (choose your week) or fixed (same week each year). Fixed weeks run January-December, so Week 7 is President's Day and Week 51 is Christmas. Holiday or peak season (Red) weeks are the prime "real estate" of the timeshare market. White or Amber weeks have middle value, Blue or Green off-season weeks have least. Time value trades, so don't buy off season unless you really want it.
The timeshare promotions market
The average selling price for a time share week in 2002 was $10,600 globally and $14,200 in the United States. That year, timeshare sales reached $5.5 billion. The potential market for timeshares is large: less than 3% of American households currently own a timeshare, even though the vast majority of timeshare owners (84%) enjoy their timeshares.
The average American timeshare owner is mature and married, with a median income of $79,000. If you enjoy great deals on vacations, consider purchasing a timeshare and investing in your future travels. The most popular timeshare promotion locations includes Orlando and Las Vegas properties.
Discounts, incentives, and vacation packages
Timeshare resorts offer discounts and vacation packages to potential buyers. Crammed with freebies and incentives-- tickets to tourist attractions, meals, or gift vouchers-- these "vacations" include an ownership tour and sales presentation. Don't go, if you can't take pressure. Go to be able to get the timeshare experience. Be sure to talk to other owners. Ask about the quality of maintenance and whether they'd buy again.
American or global timeshares?
About 1,600 of the 5,400 time share resorts scattered around the globe are located in the U.S., with the bulk of those in sunny Florida and California. However, adventurous owners can buy in China or South Africa or 270 other countries.
Timeshare purchases in the U.S. and Europe are protected and regulated by the American Resort Development Association (ARDA) and the Organisation for Timeshare in Europe (OTE), which protect buyers and discourage unethical sales practices.
Recommended Timeshare Resources
Corinne Walker's Timeshare Purchaser's Checklist <www.tug2.net>
Resort Condominiums International <rci.com>
The Timeshare Beat < www.thetimesharebeat.com>
Timeshare is also spelled as time share. The most popular spelling is a single word- timeshare. If it is spelled as timshare or timeshared or timeshares, time shares, it is still the same as time share.
---
---
© 1995-2017 EMOL.org Travel Entertainment Magazine. All rights reserved.