There are several major annual Tombstone events planned throughout the year. See all of the major Tombstone events happening throughout the year below.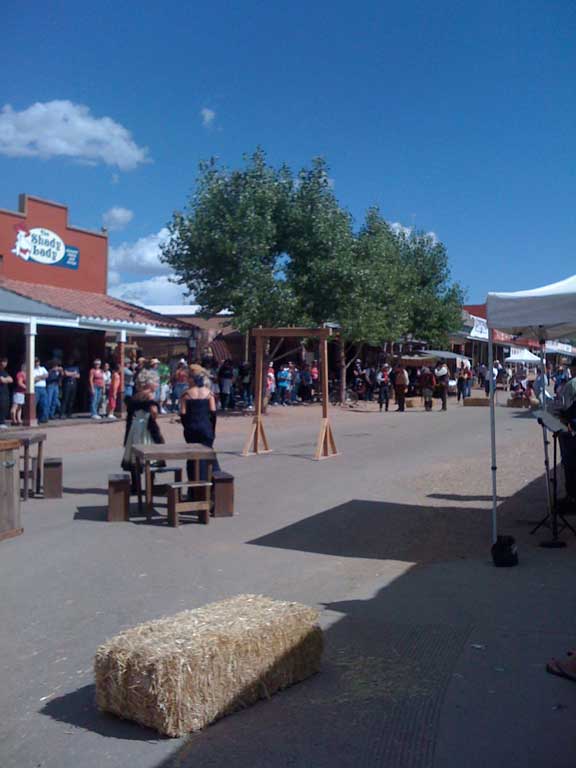 In addition to the popular and notorious Allen Street, tourists can visit the actual corral where the gun battle took place.Shootout demonstrations are held throughout the year.
Photo: Allen Street gun battle demonstration. Watch video of Helldorado Days.
Official Tombstone web site at www.tombstone.org.
---
---
February
Annual High Noon at the Tombstone Livery. Tombstone Ghost Riders Action Shooting invites everyone to attend, includes a warm-up match, speed events, 10 stage main match and delicious chuckwagon dinner, 520-457-3559 or www.tombstonechamber.com
Annual Quilt Show Sale - Tombstone Art Gallery, quilts, quilt tops, small quilted articles for show and sale, seasoned quilters present each day to share in experiences and teach skills, try hand-quilting, free, 9:30 am - 4:30 pm, 520-457-3476 or 520-457-3283 or www.tombstonechamber.com.
Fairbank Days at Fairbank Historic Townsite. Live music, art exhibits, re-enactments of "the Great Fairbank Train Robbery," and tours of the Town site and cemetery, bring the family and a picnic, walk, hike or just enjoy the surroundings, free (donations accepted), 520-457-3062. See More Tombstone Events in March.
April
Tombstone Founders Day Spring starts off during the first weekend in April with the annual Tombstone Old West Founders Days. This event features the Rose Tree Festival which honors the areas silver mining history and the blooming of the "World's Largest Rose Tree." See more Tombstone events in April.
May
Wyatt Earp Days. In honor of the West's most famous lawman- Wyatt Earp. Gunfights and Old West skits on the main street. This famous Tombstone event is held for three days every Memorial Day Weekend and is sponsored by the Tombstone Lions Club.See more Tombstone May events.
June
Annual Gem & Mineral Show features gems and jewelry displays. The annual Sabbar Shriner's Sweet Onion Festival has been cancelled for 2011. This event usually features the Onion Queen Crowning. Taste of Tombstone, parade, music, blooming onion treats, sweet onion sales. Call 520-457-9327 or 520-457-3197 about the Onion Queen.
4th of July Weekend
Family Style 4th of July in Tombstone– Celebrate a family-style fireworks display with a softball tournament, food and vendor booths and games on July 4th in Tombstone. Medigovich Field, games, hot dogs, nachos, watermelon and a Fire Engine "squirt down free, 10 am, 520- 457-3106 or http://www.tombstoneweb.com/

Freedom Days, A Celebration of the American Experience July 1, 2017 at 11:00 am - 5:00 pm. A parade will start at 11am. All people and groups are invited. Sign up after 10 am for the parade starting on 6th Street and Allen.
August
Annual Vigilante Days Vigilante Days Honors Tombstone's unique heritage. Tombstone 10K run, street entertainment, chili-off. Sponsor: Tombstone Vigilantes.
Tombstone Gunshow. You can always find what you're looking for at McMann's Roadrunner Gun Shows. You'll find a large selection of antique and modern firearms available from Licensed Dealers as well as private parties. You will also find coin dealers, jewelers with various types of jewelry, western collectibles, shooting accessories, ammunition, safes, reference materials.
Tombstone TuffEnuf Bullriding held at 4th & Toughnut Street The Helldorado Town, located at 4th & Toughnut Streets, will be presenting the Tombstone TuffEnuf Bullriding. 520-508-2446.
September
Annual Rendezvous of the Gunfighters. Gunfighter Groups group compete from throughout the U.S. Costume parade on the first weekend in September on historic Allen Street.
Showdown in Tombstone September 2 @ 8:00 am - September 4 @ 4:00 pm
Tombstone Territorial Days September 16 @ 8:00 am - September 17 @ 5:00 pm
Tombstone TuffEnuf Bullriding held at 4th & Toughnut Street The Helldorado Town, located at 4th & Toughnut Streets, will be presenting the Tombstone TuffEnuf Bullriding. 520-508-2446.
October
Wyatt Earp's Vendetta Ride. October 15-20, 2017. Join us as we ride Wyatt's trail of retribution. Our five-day ride takes us to the Chiricahua, Dragoon and Whetstone Mountains, through the high country around Tombstone, visiting spots were Wyatt and his posse killed Florentio Cruz, had a shoot-out with the Cowboys, killed "Curly Bill" Brocius, plus Johnny Ringo's gravesite and more - much more! Horses, tack, food, blanks provided. Reservations Required!! Horses, tack, food provided. Presented by True West Magazine. Call 505-286-4585.
Tombstone Helldorado Days. October 20-22, 2017. 81st annual event with over 30 different entertainment groups from gunfighters, belly dancers, cowboy stories and linedancers to song, music and just plain old good fun. Helldorado Days is held on the second Friday in October. It is Tombstone's major event. Helldorado. What started out as the town's 50th anniversary celebration in l929 has turned into its oldest tradition. Activities: Reenactments, parade on Sunday, fashion shows, carnival, live music, beard contest & street entertainment. Sponsored by: Tombstone Vigilantes. See more about Tombstone Helldorado Days.
Tombstone Gun Show. Come visit the Tombstone Gun Show during Helldorado Weekend, October 17 & 18. Coin dealers, jewelers with various types of jewelry, western collectibles, shooting accessories, ammunition, safes, reference materials and more. Open to the public. Saturday 9 a.m. to 5 p.m. and Sunday 9 a.m. to 4 p.m. Free Parking! Located in the old Tombstone High School Gym on 6th and Allen Streets. Pick up your dollar off admission coupon from Tombstone Visitor's Center and many other businesses in town. Additional Info: McMann's Roadrunner, 602-843-5303 or 866-698-6591. Visit McMannsRoadrunner.com for a discount coupon.
Bordertown. October 25, 2017. Cowboy Action Shooting Arizona State Championship. Held at Tombstone Livery Stable. Shooting Competition, Food & Shopping Vendors. Public is welcome! Free! 12 stages of Fast and Close Targets! Long Range, Pot Shoots & Side Matches! 3-Stage Warm-up Before the Match! Saturday Night Dinner & Live Entertainment!
Annual Power from the Past Antique Power Show – Tombstone Courthouse State Historic Park, operating antique engines will pump water, make ice cream, generate electricity, also a static display of antique tractors, free, Sat 8 am – 5 pm, Sun 8 am – 3 pm, 520-457-3311 or www.azstateparks.com
November
Tombstone Western Music Festival. Three full days of live music on the street and on stage! Admission at Schieffelin Hall, music on the street is free. Gala Evening Concerts in historic Schieffelin Hall and Daytime Stage performances on Allen Street. Tickets for the evening performances are available by calling (520) 457-2295 or visit tombstonewesternmusicfestival.org
Annual Clanton Days Rendezvous. Costume contest, historical walking tours and the original "ghost tour." The annual Tombstone reunion of the Clantons. Contact Terry 'Ike' Clanton at (909) 272-6061 or visit tombstonearizona.com.
December
1880's Historic Costume Ball sponsored by the Wild West Detachment of the Marine Corp League and Cowboy Up Group. Will be held at the Walter J. Meyer Gymnasium. Period or Western Dress required. Begins Saturday, December 12, 2009 from 6:30 p.m. to 10:00 p.m. For information and tickets: 520-403-7314.
Vigilettes Tombstone Toy Drive (Tentative) November 25, 2017 @ 10:00 am - 1:00 pm
---
Tombstone, AZ Hotels
Enjoy Free Breakfast. The Holiday Inn Express TOMBSTONE hotel is close to all of the history and legends that make Tombstone, AZ unique.
Lodging with us is just the start of an Old West adventure. Guests can relive the West's most famous gunfight with a daily reenactment at the OK Corral. Then mosey along to Big Nose Kate's to wet your whistle. Don't miss the Bird Cage Theatre for a souvenir and, maybe, a ghostly vision of Wyatt Earp or Doc Holliday. Take time to smell the roses at the world's largest rosebush before you head to Boot Hill Graveyard to pay your respects. Ride a historic trolley or take a tour of an 1880s silver mine just outside of Tombstone. Hotel guests love having the convenience of free Wi-Fi access to stay in touch as they travel. Our legendary town is in the heart of Cochise County, so guests are close to Sierra Vista, Fort Huachuca, Bisbee and Benson. For a family reunion or meeting, our breakfast area is available and seats up to 60 guests. After a day filled with the legends of the Old West, retreat to a welcoming hotel with modern amenities and the iconic Southwestern decor of Tombstone, AZ. Lodging with us offers you the chance to relax in the outdoor, heated pool and whirlpool. You'll be ready for a day of Western fun thanks to a free, hot breakfast. Book your rooms now! Visit hitombstone.com
© 1997-2017 EMOL.org Entertainment Magazine. All rights reserved. Robert Zucker