Entertainment Magazine: Tucson: Events
Tucson Fireworks 2021

Updates for

Tucson & Southern Arizona
Even with the continuing coronavirus pandemic, many 4th of July fireworks events throughout Tucson and the valley will still be held this Sunday, July 4th. The fireworks usually start at 8:30-9:00pm.

Large crowd gatherings, like the Independence Day Party downtown at the Tucson Convention Center (TCC), and all resorts, that were cancelled last year may reschedule their fireworks events. The Kino Sports Complex may still hold its annual baseball games and fireworks.
Keep checking back to this page for event updates.

While certain fireworks are not permitted to be set off in the city limits, there will be several, unannounced, private shows popping up throughout the night.
Below are some places that will have fireworks shows you can watch safely from your home.
Marana's Star Spangled Spectacular fireworks at Crossroads at Silverbell District Park.

Mt. Lemmon does not have a fireworks show, but Mt. Lemmon/Summerhaven usually hold a July 4th Parade. Fire restrictions are in effect over the Independence holiday. Travel up the Catalina Highway to Summerhaven/Mt. Lemmon with caution. 400-4141.
Oro Valley: fireworks show may still be planned for 2021.

Saddlebrooke One Fourth of July Fireworks will be announced.

Sahuarita Lake Park fireworks show will be announced.

Personal fireworks restrictions. Tucson and Pima County has new restrictions and uses of fireworks and laws in the city and county. With the extreme fire danger, and Big Horn fire, personal fireworks danger is high.
4th of July Weather: The summer monsoon may attempt to disrupt local fireworks shows. In some years, the rain storms start during the holiday event. Check the weather for the Fourth of July.
See more: Tucson Events
---
---
Search Tucson Events
---
Read & Download New Local Tucson Books
Read some of the books written by local author and publisher Robert Zucker, now available on Amazon.com and local bookstores. Read chapters from the books online and download free PDF samples.
An Historic and Nostalgic look at Tucson from the 1950s through 1990s
The entertainment scene in Tucson, Arizona during the 1950s through the 1990s was vibrant. Thousands of local musicians played in hundreds of venues. Now, much of the culture has been preserved for history in a 3-volume set of "Entertaining Tucson Across the Decades."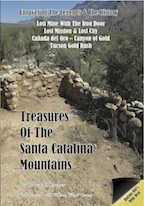 Discover the Tucson legends and rich history of the Santa Catalina Mountains. Learn about the Iron Door Mine, Spanish treasures and gold mining in Oracle and the Catalina Mountains. Visit the "Treasures of the Santa Catalinas" and read stories forgotten in time. Over 400 pages and more than 1,000 footnotes to Tucson's lost history and adventure.
---
Things to Do Around Tucson
Even with the heat, there are many things happening in Tucson and many places to go that can provide great relief from the weather. Check today's Tucson event calendar for daily activities.
Visit the Tucson Entertainment Magazine web site- online sine 1995!
Tucson, AZ. Attractions
Tucson Dining & Entertainment
Tucson Entertainment Venues
Tucson Travel Accommodations
---
---
© 1995-2021 EMOL.org Tucson Entertainment Magazine. All rights reserved.