Entertainment Magazine: Tucson: Events
Downtown Tucson, Arizona
Parking Downtown Tucson more convenient; shuttle service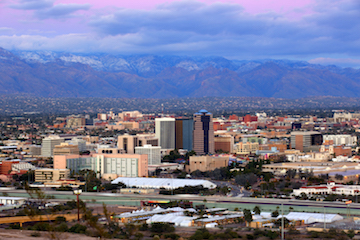 Finding a parking spot in Downtown Tucson, Arizona is faster with the additional of several new parking garages and lots.
Even with all of the construction and plans for Rio Nuevo, special efforts have been made to make parking easier in the Downtown area, specially for major downtown events like the Tucson Gem, Fossil & Mineral Shows.
Several Downtown Tucson restaurants now accept discount dining coupons from Restaurant.com. Enjoy Sushi and casual dining at more than half the price. Check out participating restaurants in the Tucson Downtown Dining section.
Tucson Downtown photo by Chuck Might. See more Downtown Tucson Snowy Winter photos by Might.
Downtown Tucson Index
Downtown Venues
Downtown Tucson Restaurants
Several downtown restaurants now accept discount coupons from Restaurant.com's gift certificate program. Purchase $25 worth of gift certificates for only $6 or less. Find Tucson downtown restaurants.
Free downtown parking
The first hour of parking is free in city-owned downtown Tucson garages. Find out more about free parking downtown.
Free Downtown Loop Shuttle
A new free transit service provides access to community services, government offices, courts, educational facilities and area businesses. The Downtown Loop runs from 6:30 a.m. to 5:30 p.m. Read more about the Downtown Loop Shuttle.
Downtown parking expansion
Tucson Downtown Parking is managed by the City of Tucson's Parkwise, which also manages the shuttle. There are now 14,000 parking spaces, 1,000 parking meters and eight parking garages available in Downtown Tucson open to the public. Downtown Tucson Parking is available hourly, monthly and 24 hours. Continue reading...
Downtown Tucson Car Rentals

Save 50% on your weekend rental at Enterprise.com. Enterprise Promo Codes: 50% Off or FREE Upgrade
Save 5% Thrifty Car Rental on your travel reservations!
More Tucson rental car agencies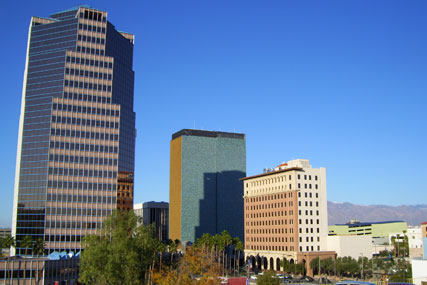 (Above): Club Congress and Hotel Congress at night, another Tucson, AZ landmark downtown.
(Middle) The Chicago Store has been one of Tucson's downtown landmarks on Congress Street.
(Below) The Tucson downtown skyline.
Authentic salsa from El Charro Cafe in Tucson, AZ. Flavors: Medium / Hot. Each jar of salsa is 13 oz. Contains: crushed tomatoes (tomatoes, salt, citric acid), water, salsa (onions, salt, garlic, white vinegar, canola oil, chiltipin pepper, oregano), tomato puree (water, tomato paste, citric acid), citric acid.
© 2011-2023 EMOL.org / Tucson Entertainment Magazine On Line. All rights reserved.