Tucson Entertainment Magazine: Attractions
Where to visit in Tucson, Arizona
With the continuous warm weather year round, the Tucson, Arizona valley has a wide range of outdoor activities and local attractions for visitors and residents.
Tucson, AZ. is located in the Sonoran desert, just 60 miles north of the international border with Mexico. The desert environment is harsh and hot. Visitors prefer to travel to Tucson between October and May.
Tucson visitor attractions year round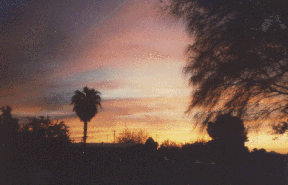 June through September are the hottest months whewre temperatures climb into the 100 degree F on many days. Winter temperatures hover in the 60-70s F.
It is easy to drive to most Tucson, Arizona attractions which are located on the outskirts of the city.
Popular Tucson area tourist spots like Old Tucson Movie Studios, The Arizona Sonora Desert Museum and Gates Pass, located on the west side of Tucson, are the most attended attractions.
On the east side Sabino Canyon and Reddington Pass are favorite areas to cool off. Trail Dust Town is a favorite tourist attraction, with the most popular steakhouse Pinnacle Peak.
For an unusual pinetop mountain getaway, Mount Lemmon in the Santa Catalina Mountains, is a short hour drive to nearly 9,000 feet above sea level. Sabino Canyon, just northwest of Tucson, has water year round with tram rides and lots of hiking and biking areas.
A Tucson vacation is sure to keep everyone entertained. Visitors of all ages enjoy hands-on museums, exciting attractions, enriching culture and heritage themed events and ample natural beauty. Outdoor-lovers flock to bird watching, stargazing, rock climbing and mountain biking. Golfers can putt year-round among saguaro cacti at desert target layouts or beneath rustling leaves at parkland courses.
Exclusive spas, including famed retreats Canyon Ranch and Miraval, rejuvenate with desert-inspired treatments. Galleries and boutiques offer artworks and jewelry by American Indian artisans and imports of all kinds from Mexico.
Local, original restaurants preserve regional culinary character, while area vineyards host wine-tasting festivals. Tucson boasts a resident symphony, an opera, live theater and ballet companies, as well as an array of entertainment at the University of Arizona. Nightlife ranges from piano bars to dance clubs, with lots of local culture in between.
Major Tucson, AZ attractions
Arizona Historical Society Museum, 949 E. 2nd St., 628-5774
Arizona State Museum, Park Ave/University, 621-6302
This is the oldest and the largest anthropology museum in Arizona. The AZ State Museum is a Smithsonian Institution affiliate. "Paths of Life: American Indians of the Southwest," is the permanent exhibit and focuses on 10 tribes of Arizona and northwest Mexico.
1013 East University Boulevard
University of Arizona
Tucson, AZ 85721
Arizona-Sonora Desert Museum, 2021 N. Kinney, 883-2702
Biosphere 2, Highway 77, Mile Marker 96.5, 896-2108
Catalina State Park, Santa Catalina Mountains, 628-5798, located within the Coronado National Forest less than 20 miles north of Tucson. Self-guided, signed trail leading through Romero Ruin that includes a prehistoric Hohokam village with a ballcourt as well as the historic Romero Ranch. Over 5,500 acres, Catalina State Park is home to over 150 bird species, more than 5,000 saguaro cacti and countless trails for hiking, biking and horseback riding.
Center for Creative Photography, Speedway/Park, 621-7968
Colossal Cave, 16711 E. Colossal Cave Rd., 647-7275
Davis Monthan Air Force Base, 750-3358 for tours
DeGrazia Gallery in the Sun is a legendary landmark of Southwestern art and architecture created by the late Arizona artist Ted DeGrazia. On the National Register of Historic Places, the 10-acre gallery grounds showcase DeGrazia originals, the Mission, the artist's home, and a gift shop. 6300 North Swan Road , Tucson, AZ 85718. Phone: (520) 299-9191
Flandrau Science Center & Planetarium, U of A campus/Cherry St., 621-4515
Fort Lowell Park and Museum. The park is mostly dedicated to illustrating the military history of Arizona, a self-guided, signed trail leads to a prehistoric Hohokam village called the Hardy site. The same trail also leads to some of the fort's historic buildings. 2900 North Craycroft Road, Tucson, AZ 85712. Phone: (520) 885-3832
Fox Tucson Theatre A movie theatre and performance venue located in downtown Tucson, the Fox Tucson Theatre, built in 1930 and recently restored and reopened, is a stunning Southwestern art deco movie palace. 17 West Congress St , Tucson, AZ 85701. Phone: 520 624-1515
International Wildlife Museum, 4800 Gates Pass Rd., 624-4024
Ironwood Forest National Monument The Ironwood Forest National Monument is 129,000-acres and with a large system of cultural and historical sites covering a 5,000 year period. The monument also encompasses several desert mountain ranges including the Silver Bell, Waterman, and Sawtooth, with desert valleys in between. Elevation ranges from 1,800 to 4,261 feet. Three areas within the monument, the Los Robles Archeological District, the Mission of Santa Ana del Chiquiburitac and the Cocoraque Butte Archeological District are listed on the National Register of Historic Places.
La Casa Cordova. This once was considered to be the oldest residence in Tucson, the Cordova House most likely dates to the late 1870s, and is now part of the El Presidio Historic District. 173-177 North Meyer. Tucson, AZ 85718
Kitt Peak National Observatory, Southwest of Tucson, 327-5511
Mineral Museum, UA Geology Building, 621-6024
Mount Graham, On Swift Trail off of US 666
National Forest Service, 800 W. Washington Phoenix, 602/542-4174
Old Tucson Studios, 201 S. Kinney Rd., 883-6457
Among the Tucson Mountains and within the Sonoran Desert is a picturesque location of tradional old west architecture that has become the preferred choice of western filmakers throughut the years - Old Tucson Studios.
Pima Air Museum, 6000 E. Valencia Rd., 574-9658
Pima County Parks & Recreation, 1204 W. Silverlake Rd., 740-2690
The Postal History Foundation has the only formal museum and library in the Southwest dedicated to U.S. Western postal history. It celebrates the historical settlement of the West through the remarkable stories of the Pony Express,historic postal stations and the railroads. Its collections, photographs and artifacts are unique to this often-overlooked part of American history. The Postal History Foundation was one of the first organizations to reach out to the asthmatic children who were sent to Arizona for health reasons over 40 years ago. Our volunteers saw that these children were removed from traditional school settings and brought the world of stamps and postal history directly to them. 920 N. First Ave. Tucson , AZ 85719. Phone: 520-623-6652
Reid Park Zoo, 1100 S. Randolph Way, 791-4022
Rillito Downs Racetrack, First and River, 293-5011
Sabino Canyon, Sabino Canyon Rd., 749-2861
Located along Sabino Creek at the northeastern edge of Tucson, Sabino Canyon is a popular destination for exploring the Sonoran Desert. Self-guided nature trails, tram, and wildlife and stunning canyon views. Hiking or picnicking.
Saguaro National Monument East, Old Spanish Trail, 670-6680
Saguaro National Monument West, N. Kinney Rd., 883-6366
San Xavier Mission, 1950 W. San Xavier Rd., 294-2624
Southern Arizona Transportation Museum at the Historic Depot Opened on March 20, 2005, the 125th anniversary of the arrival of the railroad in Tucson. The Museum presents the impact of the railroad on Tucson and Southern Arizona.
414 North Toole Avenue
Tucson, AZ 85701
Phone: 520-623-2223
The Amerind Foundation Museum, Dragoon Rd, at I-10, 1-586-3666
Titan Missile Silo Museum, Green Valley, 791-2929
Tucson Botanical Gardens is comprised of 16 different gardens within the grounds, representing a variety of gardening traditions and botanical themes. The Gardens offer programs and classes for adults on a broad array of topics, from gardening for newcomers to composting to botanical art. The children's educational programs are offered to school groups and families with the premise that learning should be fun, hands-on and curricula-based.<br>Hours: Open daily except New Year's Day, July 4, Thanksgiving and Christmas. Visiting hours are 8:30 am-4:30 pm. 2150 North Alvernon Way, Tucson, AZ 85712. Phone: 520 326-9686
Tucson Children's Museum, 200 S. 6th Ave., 884-7511
Tucson Convention Center The Tucson Convention Center is located in the heart of Historic Downtown Tucson and is the home of many events, cultural activities and conventions throughout the year. 260 S Church Ave., Tucson, AZ 85701. Phone: 520 791-4101
Tucson Greyhound Park, 2601 S. 3rd Ave. S. Tucson, 884-7576
Tucson Museum of Art & Historic Block The permanent collection displays art of the Americas, including pre-Columbian and Spanish colonial paintings and furnishings. Guided tours are offered of the historic block. 140 North Main Avenue , Tucson, AZ 85701. Phone: (520) 624-2333
Tucson Raceway Park, 12500 S. Houghton Rd, 762-9200
---
West Tucson
---


---
Annual Tucson Events
---


---
North of Tucson
---



The Mysterious Legend of the Iron Door Mine
---
Tourist Attractions in Tucson, AZ.
---
© 1995-2017 EMOL.org. Tucson Entertainment Magazine. All rights reserved.