Entertainment Magazine: Tucson
The Tucson Nightlife Music Scene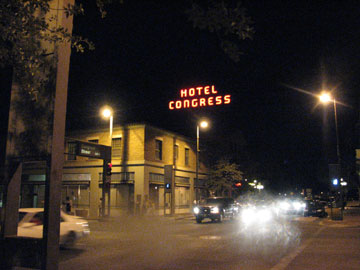 (Photo) Club Congress and Hotel Congress, a landmark and popular entertainment venue in Downtown Tucson
While the Tucson, AZ live music and entertainment scene has dwindled in the past few years, there are still some popular nightclubs that attract steady and loyal music fans. In 2014, some Tucson bars and clubs will undergo changes- partly due to the economy.
Club Congress, in Downtown Tucson, has been a landmark in the local Tucson music scene for decades. Alternative and rock concerts held weekly, spotlighting local musicians and national acts, continue to attract a following.
Country fans still have long time bars, The Maverick on Tucson's eastside. After a devasting fire, The Maverick relocated to Tanque Verde and Grant.
These are the latest posted Tucson nightlife music, concerts and club events and schedules. Select a title to read more about the event and link to the events web site.
Tucson Nightlife Calendar Guide
Submit your Tucson event for consideration.
---
Entertaining Tucson: Nostalgia Music
Thousands of Tucson musicians, bands and venues. A new book about the local entertainment scene from the 1950s through the early 2000s, published by Entertainment Magazine. Read Entertaining Tucson sample pages and find your name!
Tucson in the 1950s
1980s
1985
1987
1990s
Now Available!
A Nostalgic look at Tucson
from the 1950s through 1990s
Complete 3-Volume Book Set
Over 700 pages Now Available!
FREE DOWNLOAD
100 page compilation
Read a free sample from all three volumes
The entertainment scene in Tucson, Arizona during the 1950s through the 1990s was vibrant. Thousands of local musicians played in hundreds of venues. Now, much of the culture has been preserved for history.
The complete three-volume set of "Entertaining Tucson Across the Decades" brings back over 50 years of local musical memories. Interviews, original photos and feature articles tell the story of Tucson's culture during the last half of the 20th Century.
Read free sample chapters and find your fsvorite band's name and story.
Tucson Music News
Chuck Wagon & the Wheels were a premier country/western band, but every fan knew they can knock out some pretty mean rock and roll, too. Formed in 1977, Chuck Wagon & the Wheels became familiar to Tucsonans in the late e70s and early e80s for their satirical music when they called the Stumble Inn their home.
Best known for their gCountry Swings Disco Sucks,h these guys hit #1 on the gDr. Demento Showfs Funny 5 Countdownh in 1980, closely followed by gThe Gas Song (Letfs Drop the Neutron).h
Unfortunately, this was released during the Iranian hostage crisis, and wasnft looked upon as funny. Maybe the time has come now to get some airplay. Read a nostalgia article from 1990 on Chuck Wagon and the Wheels. Chuck Wagon & the Wheels, Entertainment Magazine photo.
Live Irish music every Tuesday evening from 6:30 to 9:30PM at the Royal Sun Lounge on Stone at Speedway in the Royal Sun Inn. Some of Tucson's best musicians play fiddle, flute, Irish whistle, accordion, banjo, guitar, mandolin and bodhran. Come early for the best (limited) seating! Good beer, decent eats, NO cover charge! Read more about Irish music at the Royal Sun.
Singer/songwriter Cary Jaymes (Scottsdale, AZ) was humbly honored that his song Stand Together was utilized in the promotion of the recent benefit concert for the shooting victims of the January 8, 2011 tragic shooting in Tucson, Arizona. The Fund for Civility, Respect and Understanding was launched by Ron Barber, a Giffords aide wounded in the shooting and featured headliners such as Alice Cooper and Jackson Brown at the Tucson Convention Center on March 10, 2011. Continue reading about Cary James and Stand Together.
The Maverick now hosts live music five nights a week from Tuesday through Saturday. The Maverick Live Country Music NighClub. "The Maverick continues to host the greatest musicians in Country music", said Karen Markovich, The Maverick's operating partner, "Since 1963, we've had some of Nashville's finest in an unique intimate concert setting including Blake Shelton, Waylon Jennings and Willie Nelson."
Dean Armstrong passes away at age 87 on Sunday, March 6, 2011. For five decades Armstrong was a musical tradition at Li'l Abner's Steakhouse in Marana. His first Tucson gig was at the Chanticleer Night Club in 1946. Armstrong died of pneumonia. He had neen in ill health since he broke his leg in a November 2010 fall.
Gerry Glombecki, Tucson musician, dies at age 64.
The White Buffalo will be coming through Tucson playing Club Congress on Nov 8 supporting his upcoming EP, Prepare for Black & Blue. For a preview of his live "fierce physicality," check out this live, sunset video for the EP track "Into the Sun." The Prepare for Black & Blue EP will be coming out via Ruff Shod/Nettwerk Records, another release in a cannon that has garnered The White Buffalo fans across the country - he's sold over 20,000 physical copies of his last two releases based purely on word of mouth and his stunning live performances.
The Maverick remodeled for live country music five nights a week Live country music five nights a week is one of the new features of Tucson's Live Country Club, The Maverick. New improvements to the 47-year-old Tucson country music legend will better showcase local talent and national touring acts. The Maverick rebrands itself as "Tucson's Live Country Club." Recently remodeled and upgraded with a new concert sound system and club lighting, The Maverick will host live music Tuesdays through Saturdays. Continue reading about The Maverrick.
Tucson favorite El Charro Cafe announces the start of their NEW Fiesta de la Musica Live Music Series at select locations (see attachment), a great new value of live music every weekend featuring some of Tucsonfs most talented local musicians.
Marcy Playground will be performing songs from their new album, Leaving Wonderland cIn A Fit Of Rage, in your area. Marcy Playground will be in Tucson playing The Rock on August 29th -- theyfve come a long way from Sex And Candy!
Tucson Bluegrass Music Festival 2010. The Desert Bluegrass Association presents the Tucson Bluegrass Music Festival at Desert Diamond Casino. The eleventh annual festival will feature all-day (10am - 5:30pm) performances on Saturday and Sunday.
---
---
Jonathan L and his lopsided world
Newsreal's Jonathan L is back with his twice weekly radio show "THE LOPSIDED WORLD OF L," a mixture of Alternative and Rock from the past and present. Listen to Jonathan L on Saturday mornings 6:45am-10am and Sunday evenings from 6pm-8pm on 98KUPD FM, Tempe, AZ. Also read alternative rock music reviews from Jonathan L's Must Have CDs.
Relocated: 708 E. 9th
TWELVE TRIBES Reggae Shop & Concerts
Tucson Music from Amazon
Zoom Records Anthology
Zoom Records was Southern Arizonafs first rock and roll record label. It was the creation of two 17 year old Tucson, Arizona, Catalina High School students, Burt Schneider and Ray Lindstrom. All the records were produced during a short 7 month period in 1959, but they capture the independent rock sound of the era.
They were all recorded in Phoenix at Audio Recorders of Arizona, where Duane Eddy made all his big hits. Legendary engineer, and Grammy award winner, Jack Miller was at the controls. He was famous later for sessions with many top stars including the Rolling Stones.
None of the records were giant chart busters, but they got heavy play and made the hit sheets in Tucson as well as a few other places in the US and Europe. They continue to be included on many US and overseas compilation releases featuring 50's American rock and roll and rockabilly.
No early rock collection is complete without the "Southern Arizona Sound."
Featured Tucson Artists:
King Rock and The Knights: The wildest, groovinest, hard pounding-rockinest sound anywhere. Roger Hohlenkamp is King Rock with Knights Bob Dickey, Carson Noel, and Tom Hawk. The two cuts featured here were re-released on a 45 in 1965 and Send-di became a hit in Pittsburgh as the theme song of WZUM's legendary jock "Mad Mike" Metrovich. It is also featured on the Itzy label LP and CD "Pittsburgh's Greatest Hits." Scandal and Send-di were both cuts on on the German label Buffalo Bop's Strictly Instrumental Series.
Pete Ronstadt and The Nightbeats: Fast or slow, these vocals with Pete were the worldfs best. (You may have heard of Pete's little sister, Linda Ronstadt) Besides Pete on the vocals and guitar,there was Nate Foster-guitar, Bert Roberts-Drums, Lance Hoopes-Sax, and Don Grossberndt-Piano.
Lonesome Road Rock was the biggest hit of all the Zoom sounds in Tucson. These singles have shown up quite often on foreign early rock compilation albums including the recent Collector's Records "Rockabilly Hoodlums" (Hot Greaseball Action) CD series. Actually, the words "hoodlums" and "greaseball" are really misnomers; the group was about as clean-cut as you could get...just look at the cover photo.
Jack Wallace and the Hi-Tones: He could have been Elvis, but he was just a couple of years too late. Jackfs deep vocals along with the doo-wop harmony of LeRoy Meadows and Dave First of the Hi-Tones are a real treat. This was the first Zoom Record and had the blue and silver label. All future releases would be the distinctive red and silver color. The week You Are The One was released it was played on the air very hour as a KTKT Exclusive (Tucson's top station).
From the Follow That Dream series out of Europe, this is an unreleased 'live' show from June 1, 1976! All songs were recorded June 1, 1976 at the Community Center Arena, Tucson, Arizona except See See Rider (recorded in Odessa May 30 1976, afternoon show) and Love Letters (recorded in Odessa May 30, 1976, evening show).
Tucson, Arizona Dining and Services:
Discount Tucson Dining Coupons
Classic Interviews by Tina Alvarez

© 1995-2016 EMOL.org. Tucson Entertainment Magazine. All rights reserved.