Entertainment Magazine: Tucson: Mt. Lemmon
Mt. Lemmon Road & Trail Map
Trail maps of Mt. Lemmon and the Catalina Mountains are available from a variety of sources. One of the least expensive way to get a map of Mt. Lemmon, Summerhaven and the mountain range is free from Google Maps.
Google Map of Mt. Lemmon
To zoom in to specific location around Mt. Lemmon, click the arrows pointing above, below, left or right. Select the button in the upper right corner for a terrain topographical map of Mt. Lemmon. The default is satellite map. Print out pages of the map to cover trails, roads and camping spots.
Mt. Lemmon, AZ (zip code 85619) forecast location, Lat/Lon: 32.43N 110.76W. Elevation: 7596 ft.
---
Check out what's on sale at Camping World! Hundreds of Items - Huge Savings delivered to your door. Shop at Camping World!
---
Jewelry and Rock Art from Mt. Lemmon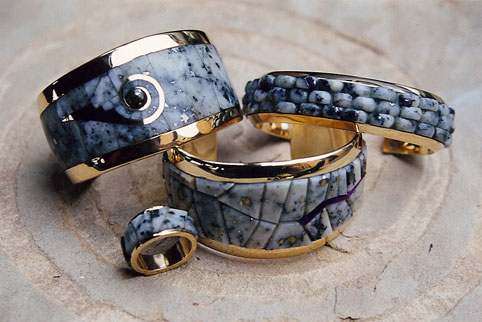 Flint Carter is one of the few artists who create their entire work - from prospecting the stones, cutting, polishing and fabricating. All jewelry and art work materials are exclusively mined from Mt. Lemmon and the Santa Catalina Mountains.
With a large collection of high grade ore that has been accumulated over the decades, he has fashioned dozens of artistic creations- jewlery, polished stones and desert rock art. Read about Flint Carter's work, the legend of the Iron Door Mine and other stories of the Old Southwest. Call Flint at 520-289-4566 or email [email protected].
Books about Mt. Lemmon and the Catalina Mountains
Legends of lost mines, lost cities and a lost mission have been passed down by word of mouth for generations. The most famous legend, the Iron Door Mine, helped launch the early American hunt for gold in the 1850s. Read more about the legends and history behind them in a new local book on the Treasures in the Santa Catalinas. Purchase copies of Treasures of the Santa Catalina Mountains: Unraveling the Legends and History of the Santa Catalina Mountains.
The Santa Catalina Mountains
The Legends & History
The Lost City & Mission
Tucson Gold Rush of the 1880s
Squeezing the Lemmon II... More Juice Than Ever: A Rock Climber's Guide to the Mt. Lemmon Highway, Tucson, Arizona
Climb Mt. Lemmon with one of the more popular hiking books about the Catalina Mountains. Includes maps, photos, route topos and descriptions, and general area information most climbers find handy. 324 pages. Eric Fazio-Rhicard, Author
---
© 1995-2023 EMOL.org Mount Lemmon Entertainment Magazine. All rights reserved