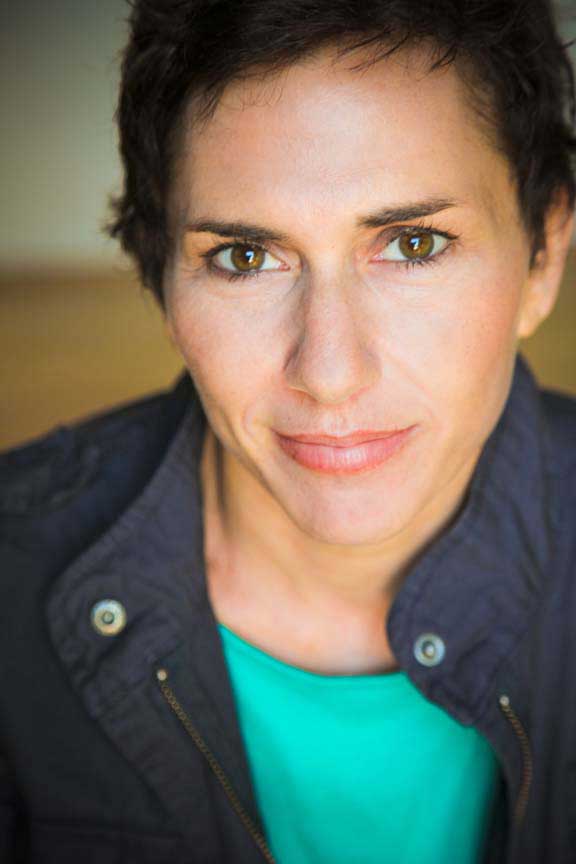 By Madelyn Ritrosky
Slap me sassy, girl! The opening scene of Sassy Pants, from writer-director Coley Sohn, is flat-out sassy, in other words, so pitifully comical that you're reeled in fast – and stay wonderfully ensnared for the duration of this feature-length serious comedy.
The movie had its world premiere at the 2012 Santa Barbara International Film Festival.

What is this opening scene, so deserving of superlatives? Without giving the game away, let's say that protagonist Bethany Pruitt is the valedictorian of her high school graduation. Yet it's not as it seems due to the place of her education and the peculiarities of her dysfunctional family.

And what is serious comedy? That means Sassy Pants will have you laughing, cringing, thinking... savoring. You go, girl!

I'm always drawn to films that smartly showcase women's experiences and, in this case, honest coming-of-age quirkiness that's about the girl – not the boy, thank you very much.

Sure, there've been other feature comedies centered on teenage girls growing up, some by female directors, like Clueless (1995, Amy Heckerling) and Sex and a Girl (2001, Drew Rosenberg), some by male directors, like The Sisterhood of the Traveling Pants (2005, Ken Kwapis). (After you've read this interview with Coley Sohn, check out these links for my previous interviews with Drew Rosenberg and Ken Kwapis.)

There are also some dramatic features out there, like Follow the Prophet (2009), also by Drew Rosenberg. But these films principally about girls' experiences are far outnumbered by male-centered movies, which are the mainstream norm.

Sassy Pants is actually the feature directorial debut for Coley Sohn who has, until very recently, focused on acting instead of filmmaking. She has had small roles in Beverly Hills, 90210 and Desperate Housewives. Sassy Pants is her second movie as writer-director, the first being the 2009 short on which the feature is based, Boutonniere.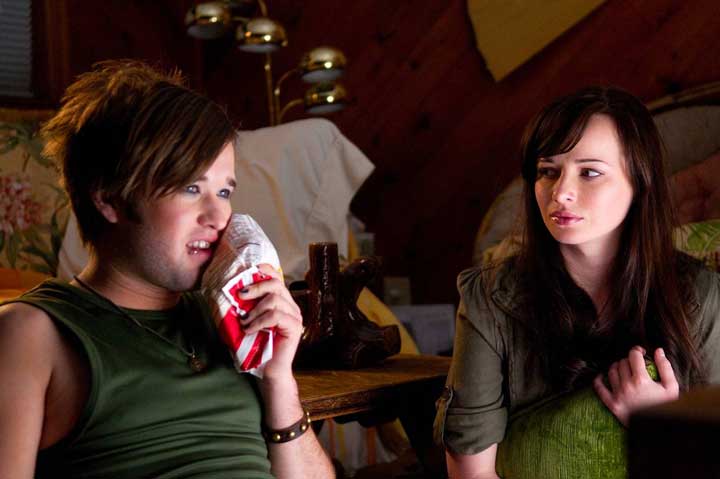 Photo: Haley Joel Osment, fabulous as Chip (left), pays the price for helping his boyfriend's daughter, Bethany (played wonderfully by Ashley Rickards), when she stays with them for a while.
She can tell us more about her experiences making the films, so read on for the Q&A of our interview.


1. Did you originally just want to act or were you always interested in directing and/or writing?

Initially I just wanted to act. I did a lot of musical theater as a kid in my native Washington, D.C. and even did a national tour and short stint on Broadway. But I should've seen the urge to direct coming. When I was very young, I used to make my neighborhood friends put on little plays with me in the basement that I'd write and direct. Should've known...


2. You said you used to buy, fix up, and resell houses. You used that with your filmmaking?

Yeah, I used to flip houses and we did that with the house in Boutonniere to pay for the short. We would have needed to flip multiple houses to pay for the feature though, and that wasn't going to happen! Also, because there's so much more post production that comes with a feature – at least ten times what went into my ten-minute short – there's no way time would've permitted. I do have my real estate broker's license, though, and found the Pruitt home on the local MLS (multiple listing service) and we negotiated a good short-term rental deal with the listing agent. So being in real estate definitely helped in that sense.


3. The actors in your original short were all different from those in the feature. How was the casting process different for the 2 films?

That's a really good question. We had 2 different casting directors for each project, Tammy Billik for Boutonniere and Eyde Belasco for Sassy Pants. Both are fabulous, really reputable casting directors. Zach Quinto, who did a cameo in the short film, is a friend and he was in New York doing a play so he wasn't available to reprise his role for the feature. He's actually the one who suggested Drew Droege for the role of Michael Paul in Sassy Pants. We brought Drew in and absolutely fell in love. Also, it's funny but my producers and I had fantasized about Haley Joel Osment playing Chip when I was initially writing the script. When Eyde was able to cast him, we were obviously over the moon.


4. So Sassy Pants is your second directing effort and first feature, right? How did directing the feature compare with directing the short?

Sassy Pants is my first feature and second stab at directing. It was a very different experience from the short. Boutonniere was shot in 2 days and pretty much turned out verbatim/identical to the original script. On the other hand, the Sassy shoot was pretty arduous. We shot over the holidays in 2010/2011, straddling Christmas and New Years. It rained and was freezing the entire time and we had to shoot for summer. We were on an extremely tight schedule, completing the entire film in 19 days. Maybe even 18. I can't remember now. I've blocked it out! But because time was so precious, it was very much what we shot was what we got. A few takes and we had to move on. The cast and crew were all amazing. Consummate professionals. I was so lucky to be surrounded by a team like that.


5. How did you get financing for Sassy Pants?

I actually put up the seed money, which everyone says is a huge no no. With that we started casting and hired someone to break down the script in terms of budget and scheduling and also secured an attorney. My producer, Adam Wilkins, came up with the rest via family and friends. It was an amazing feat, raising what we did. Sometimes I have to pinch myself. I can't believe we actually pulled it off.


6. I feel more women directors, more films with female protagonists, and more films targeted to women are really needed. How do you see your writing/directing efforts in terms of the possibility of more opportunities, more exposure, and more stories for women?

Well being a woman, I think I'm naturally skewed towards female protagonists. I love my male characters too, but as a chick, I dig chick-centric stuff. I actually think it's advantageous, being a female writer/director these days. Women do make up half the population. We're obviously a very large audience. And someone's gotta tell those stories.


7. Have you gotten any feedback regarding gender issues (female protagonists/characters or the gay male characters)?

There hasn't been any feedback I'm aware of in terms of gender or gay issues. There's been some good action between our sales reps and potential distributors. Nothing concrete to report just yet. I'll keep you posted!


8. I see that your next project is about gay marriage. Will it be a short or feature? What would you like to say about that project?

My next project is a feature. The working title is "Dodie and Cheryl Get Hitched." It's a quirky dark comedy, much in the same tone of Sassy Pants, where a dowdy-ish lesbian couple who've been together for years, living closeted in a small middle American town, decide through a series of events to get married and then the proverbial sh*t hits the fan. I think it really highlights the hypocrisy of this very hot issue. Because it's so timely, I'd really like to make this one sooner rather than later.


9. Do you see yourself as truly moving now into the writer-director chair and leaving acting more or less behind?

Yes! Absolutely! No more acting! I never thought I'd find something that could take away my need to act. And with directing I did. Thank god! I think I'm a way better writer/director than actor. I'm better suited for it. But the nice thing is that I have a lot of empathy for my actors and love working with them. So all the years of pounding that pavement have definitely turned out to be a good thing.


10. What's the festival experience so far with Sassy Pants? Upcoming festivals?

Our next stop is closing night of the Palm Beach International Film Festival. Then we go to the Nashville Film Festival and then we're on to the Milan International Film Festival. There are a few more in the works but we can't say till they're announced.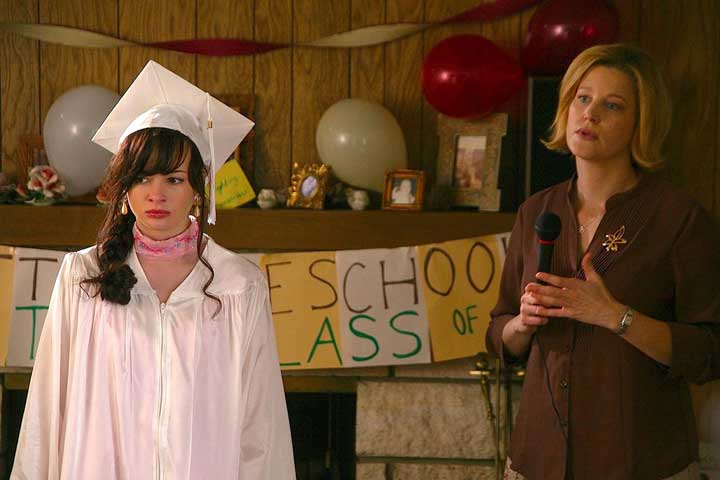 Photo: Bethany Pruitt (nailed by actress Ashley Rickards) and her overprotective mother, Jane Pruitt (Anna Gunn, who also does a great job).
Thanks so much, Coley, for sharing your experiences. Sassy Pants is a humorous yet heartfelt, edgy yet endearing character study that puts us right with your heroine – right in the middle of her nearly out-of-control life as she pulls herself up and out. Fabulous.
Photo Top: Coley Sohn