Entertainment Magazine: Tucson: Mt. Lemmon
Fire danger increases on Mt. Lemmon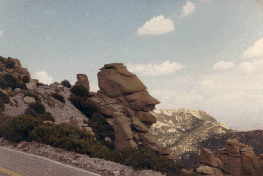 Tucson's recreational outlet, Mount Lemmon (Mt. Lemmon) is usually available all year for hiking, camping and day trips.
But, for the summer, much of the mountain range will have limits to the public because of drought and severe fire danger this year. Any closure of the Coronada National Forest may soon include most trails, camp grounds and pull outs. Mt. Lemmon and Summerhaven, at the top of the mountain, is currently open and so are all camping and hiking areas.
---
---
Touring Mt. Lemmon
A visit to Mount Lemmon is a scenic hour-long drive from the desert floor of Tucson to a lush, regrowing, forest over 9,000 feet in the sky.
The foothills of the Catalina Mountains north of Tucson, AZ. begins with the hour long journey to the top of the hill known as Mount Lemmon (Mt. Lemmon), Arizona and the village of Summerhaven, Arizona. As the weather cools in the Tucson valley, it also cools at the top of the Santa Catalina mountains by 25-30 degree F.
If you plan to travel in the morning, it will be chillier when you get to the top at Summerhaven or the Ski Lift. Bring an extra sweater or jacket in case the temperatures drop. Visit Mt. Lemmon and Summerhaven.

Arizona's Gold Rush in the Catalinas
The Santa Catalina mountains has been experiencing a gold rush for hundreds of years. Just below Mt. Lemmon lies one of the great stories of the search for gold in the mountains- the lost city and the lost Iron Door mine. Explore the historical records that account for that thousands of pounds of gold and gold in quartz that has been extracted from the Catalina mountains. Read about the Treasures of the Santa Catalina Mountains..
Legends and history of Mt. Lemmon
Making Mt. Lemmon out of Lemonade
The devastating Aspen Fire on June 17, 2003 nearly destroyed the Summerhaven community. Only a few building withstood the inferno. Reconstruction is continuing with new cabins, stores and a community center. Watch a video of the Santa Catalina Mountains Aspen's fire.

Top Photo: "Nixon head" rock, or otherwise known as Goose Head rock, located north of Windy Point. © 1973 BZB.
Bottom Photo: Overlooking Summerhaven during construction after the fire.Bottom Photo: Looking over Summerhaven during the first snow of the season on Thanksgiving Day 2008. The unexpected downfall stranded a number of tourists. © 2009 BZB.
Mt. Lemmon is also written as Mt. Lemon, Mount Lemmon, Mt Lemon, Muont and Mount Lemon.
That has lead to some confusion to the correct spelling for Mt. Lemmon. Frog Mountain is another name for the Summerhaven valley.