Entertainment Magazine: Time Shares
Travel fares and room rates rise again
While some air and hotels prices will rise for autum and winter travel, there are some discounts in travel vacation packages and local staycation offers.
A growing option is vacation packages, offered by travel agencies like Southwest Airline Vacations, Hotels.com and Travelocity as a way to fill empty rooms and seats. More people are now looking for cheaper vacation packages that bundle air flight, hotel, car rentals into one price. Some companies include dining and amusement credits.
The Entertainment Magazine travel and vacation section contains dozens of destination guides for cities throughout the US, and some global destinations, with information and links to travel news, coupons and other discounts.
---
---
Travel Videos
---

---

The Old West
Legends about the legends of the Old West in Arizona, the lost Iron Door Mine, the Lost City and other treasures.
---
---


Arizona
Tour of Mt. Lemmon and see the new construction after the fire.
Watch a gunfight in Tombstone.
---

Las Vegas
Tour the Las Vegas strip, watch videos of entertainment, Bellagio Fountains.

Travel Services
Cruises
Airline Discounts
Car Rentals, Hire
Hotels
International Travel
Cheapest and most expensive travel times?
| | | |
| --- | --- | --- |
| Season | Cheapest | Expensive |
| Winter Season | Jan. 1 - Mar. 31 | Nov 1 - Dec 15 |
| Christmas Season | | Dec. 16 - Dec. 31 |
| Spring Season | Apr. 1 - Jun. 15 | |
| Summer Season | | Jun. 16 - Aug. 31 |
| Fall Season | Sept.1 - Oct. 31 | |
Summer 2015 Travel Tips
Follow the 3 'Be's' for Smooth Holiday Airline Travel - 'Be Early', 'Be Informed', 'Be Prepared' Get Today's Top Air Travel Tips...
New Int'l travel ID needed. U.S. citizens who cross into the United States from Mexico and Canada must show proof of citizenship. A passport or passcard will be required for re-entry. U.S. citizens without one will face extra scrutiny. A driver's license or birth certificate will not be accepted any longer. Mexican citizens must show proof of citizenship already to enter into the U.S. by land through federal ports. Continue reading about how the new law affects you.
Use promotion codes for further discounts. One way to save extra onflights and car rentals is using coupon, or promotional, codes. These special offers are usually for a limited time and must be used during a defined period. Find links to current travel promotional codes.
Best Travel Experiences of North America
Travel the nation with David Krell
Southwest Airlines Vacations

Special promotional code deals. See this month's SWAV promo codes.
Gloucester Place on the Island of Tobago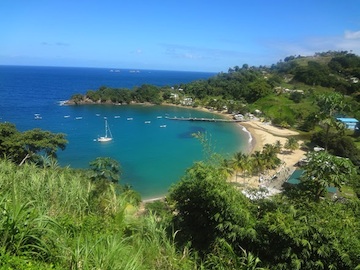 Part rainforest, part idyllic Caribbean island, Tobago is like taking a 25-mile long, 6-mile wide chunk out of Costa Rica, putting pure African and Indian culture as the main influence and sticking it less than 100 miles from South America. Read more about Pariatuiver Bay by David Krell.
The whole concept of tending to a tourist's needs is inauthentic by nature, as it's foundation is rooted in giving the tourist the best experience possible, rather than the tourist acclimating to a situation that exists whether he or she is there or not. At the Burnt Well Guest Ranch, they are able to overlap the two.
Hotels.com
Hotels.com® offers more than 140,000 properties in 60 countries - from hotels and B&B's to condos and all-inclusive resorts, especially during sold-out periods. Backed by the Hotels.com Price Match Guarantee. Save between $20 and $100 on all Hotel Bookings Now with Hotels.com!
Expires 1-1-2014.
Priceline
Name your own price and bid for your trip with the Negotiator on your side. See our links to this month's Priceline deals.
Travelocity
Get this week's latest promotional codes and special web-only deals offered through Travelocity links.
Expedia
No Expedia Change or Cancel fees on hotels, cruises, cars and more! See Expedia web offers and last minute deals.
Orbitz
Get special offers on Orbitz bookings. See links to this week's Orbitz online deals.
---
© 1995-2015 EMOL.org. Travel Entertainment Magazine. All rights reserved.