Entertainment Magazine: Tucson: Events
Tucson Halloween Events Continue Despite Pandemic
Even the 2020 pandemic won't interfere with Tucson Halloween on Saturday night, October 31st. There are several innovative outside community events, drive-through's and corn mazes planned. Health restrictions, such as mask wearing and social distancing, will be enforced at all events.
It is advised to purchase tickets to events online to ensure attendance as many events have restricted visitors.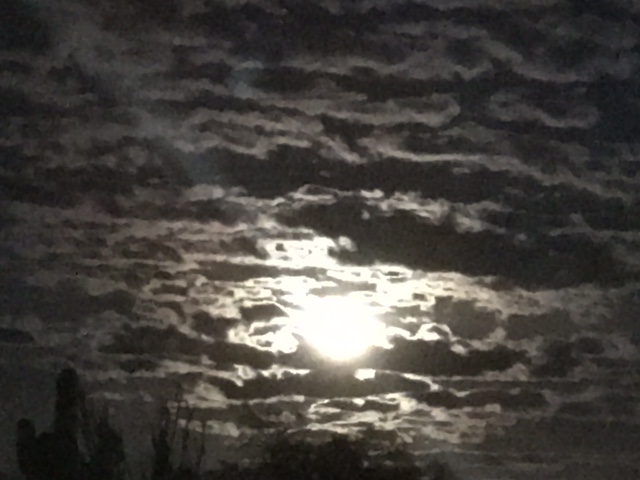 Tucson October moon photo by Carolyn & James Barnett
Haunted Houses Around Tucson
Old Tucson Studios Nightfall has been cancelled this year– mainly because of the closure of Old Tucson Studios in September as a casualty of the pandemic.Old Tucson's Nightfall recreated a haunted western town for decades.
Slaughter House Open from Oct. 1-Nov. 1. To meet COVID guidelines, all of the Slaughter Houses have been reconfigured into a single, gigantic house to make one of the longest, continuous haunted houses in the world. Guests are asked to purchase tickets online in advance, as some nights will be sold out early. Open Thursdays, Fridays and Saturdays through October. 1102 W. Grant Road at I-10. 520-917-0177.
Tucson Halloween Events
Red Herring Puppets presents Hansel & Gretel at the Outdoor stairwell at the Tucson Mall (lower level between REI and H & M) on October 31, 2020 at 10:00 am. Tickets: $8.00 purchase online. RESERVATIONS and MASKS are REQUIRED. Celebrate Halloween with this popular fairytale brought to life with traditional marionettes. Red Herring Puppets is an award-winning national puppet company now based in Tucson.
CHALK FOR HOPE, HEROES & HALLOWEEN, Saturday, October 31, 2020, 2PM - 5PM. Free Admission, Oro Valley Marketplace. The Southern Arizona Arts & Cultural Alliance, in partnership with underwriting sponsor Lisa Bayless / Long Realty have come together to collaborate on a Fall chalk art and community celebration to honor the ongoing service of local healthcare workers and first responders in Oro Valley. The one-day celebration will partner up with the Oro Valley Police Department, Golder Ranch Fire District and Oro Valley Marketplace to feature professional chalk art muralists creating stunning 5' chalk murals on display as a drive-through, pop-up experience at Oro Valley Marketplace. The murals will feature uplifting themes of community, healthcare, and a celebration of public safety. Attendees can safely enjoy stunning colorful pop-up murals, participate in a costume contest from their cars, and receive prepackaged treat bags at the Oro Valley Marketplace parking area near Red Lobster. Kids are encouraged to come dressed for Halloween, especially as the 'heroes' of first responders and healthcare that will be honored in the murals. Attendees who arrive in costume can also receive pre-packaged bags of candy as they drive through the activation area, wave to local fire-fighters, police officers and other first responders, and participate in a best face mask and costume competition with prizes from the safety of their vehicle. Attendees can also compete in a "Best Face Mask" and costume competition both at the event and online. Oro Valley attendees that would like to submit a photo of themselves at the event or from home can post it on the Facebook event or email to [email protected] to compete. Cash gift cards of $250 will be awarded to the winners: Best Overall Costume, Best First Responder Themed Costume (Healthcare / Police / Firefighter / Etc.), Best Face Covering or Mask.
SAHUARITA CHALK ART ADVENTURE Saturday, November 7, 2020, 10AM-3PM. Free Admission. Multiple Locations. The Southern Arizona Arts & Cultural Alliance and the Town of Sahuarita are inviting artists to hit the pavement, with chalk that is. In one day, an amazing collection of chalk artists will bring the park pavement to colorful life in the second annual Sahuarita Chalk Art Adventure. Attendees can watch professional artists create stunning murals in a variety of themes throughout the community, or grab a piece of chalk and make their own colorful addition at home. Get in on the chalk fun from home! We'll be offering downloadable versions of the artist designs in a coloring page format starting November 2. Community members can also learn from several virtual tutorials pre-recorded by professional chalk muralists.
Halloween Drive-Through Events
Halloween Drive-Thru-A-Palooza on Saturday, October 31 from 4:30-7 p.m. at the Northminster Presbyterian Church; 2450 E. Fort Lowell Rd. and Tucson Boulevard. Dress up and celebrate 15 years of safe treating at Northminster Church! No tricks, all treats! Bring the whole family for this DRIVE-THRU ONLY event! You'll make one stop to receive a goodie-filled bag for each child in your vehicle. Please wear a mask.
Drive-Thru Fall Festival at Grace Community Church
Grace Community Church 9755 N. LaCholla Blvd, Tucson
Free/ 5pm-7:30pm.
Harvest Festival Drive-Thru at Christ Community Church, 530 S. Pantano Road Free.6:00 pm - 7:30 pm
Drive Thru Trunk of Treat at Rincon Mountain Presbyterian Church, 8445 E. Tanque Verde Road. 6:00 pm - 8:00 pm.
Corn Mazes Around Tucson
The traditional corn mazes continue to operate this month around Tucson. All visitors are required to wear masks and social distance when possible. Walking through an outdoor corn maze is much safer than crammed indoors. But all outdoor Halloween corn mazes required face masks and encourage social distancing. Extra sanitation measures, such as
Apple Annie's Corn Maze held from Sept. 19 - Oct. 31 from 9:00 a.m. with the last entry at 4:00 p.m. every day. 12.5-acre, 600,000-stalk corn maze opens every day at 9:00am with the last entry at 4:00pm. With two levels of difficulty spend as little or as much time as you want exploring the pathways of the maze. Bring your family and friends for fun competition. Apple Annie's Pumpkin Patch, 6405 W Williams Rd, Willcox, AZ 85643.
Buckelew Farms will continue to hold its annual Terror in the corn maze. Open on weekends starting Oct. 2 through Oct. 31. New location at I-10 & Tangerine (Exit 240.) in northwest Tucson. Masks will be required for ALL staff and also for patrons. Everything is now outdoors. Six feet of distancing will be required wherever applicable. Online ticketing encouraged. Hand sanitizer stations throughout property Increased frequency of cleaning common areas. Limited group sizes and number of people per attraction. No corn maze in 2020.
Marana Pumpkin Patch Farm & Festival is open from Oct. 3 to Halloween night Oct. 31, 12pm-7pm. Animal care standards will remain exceptional and include regular sanitization of animal areas and surfaces. Employees will clean and sanitize common areas and surfaces regularly. Farmers market items, produce, and farm merchandise will be handled with utmost care and in accordance with recommended community guidelines. Masks are required. Closed Mondays, Tuesdays and Wednesdays. Saturday and Sunday 9am-7pm- stay all day! 14901 W. Wentz Road in Marana. 520-305-5481.
Tucson Virtual Halloween Events
Carve-Con 2020 is a free, spooky, family-friendly virtual Halloween event. Every Friday in October features a different set of Halloween-related activities. Join FrightVision as they take Freaky Fridays in October to another level with CarveCon!
October 9th: Opening night will feature a spooky sketch night where artists teach kids how to draw spooky things as well as a science lab, where kids and other special guests can participate in Halloween experiments.
October 16th: Bring your competitive edge, it's Spooky Game Night! Spooky Game Night will feature a mystery game for the kids to solve and other games including scavenger hunts, would you rather and many other spooky thrills.
October 23rd: Settle in for Spooky Tales Around the Fire Night. Storytellers will tell their spookiest stories for everyone to listen to.
October 30th: The grand finale will have the top stories from the writing contest for kids, read by some amazing published authors, including Dan Poblocki, Lorien Lawrence, Lindsay Currie, Ronald L Smith, Michael Northrop and so on. To further get the kids engaged and involved, Crantz is hosting a Spooky Writing Contest.
If you plan any safe Halloween parties, entertainment and special events throughout October, email your listing to [email protected].
---
Purchase tickets for upcoming Tucson entertainment and sporting events at Ticket Network
---
---
This Week's Official Entertainment Book Offer:
---
---
---
Things to Do Around Tucson
Even with the heat, there are many things happening in Tucson and many places to go that can provide great relief from the weather. Check today's Tucson event calendar for daily activities.
Tucson, AZ. Attractions
Mt. Lemmon | Gates Pass | Old Tucson | Sabino Canyon Santa Catalina Mountains | More Tucson Attractions
Tucson Dining & Entertainment
Restaurants | Movies | Shopping | Nightlife
Entertaining Tucson Across the Decades
Tucson Entertainment Venues
ATC | Arizona Opera | TCC | Fox Theatre | Downtown Tucson
Tucson Travel Accommodations
Car Rentals | Hotels | Tucson Airport
Upcoming fall release: Legends of lost mines, lost cities and a lost mission have been passed down by word of mouth for generations. The most famous legend, the Iron Door Mine, helped launch the early American hunt for gold in the 1850s. Read more about the legends and history of the Santa Catalinas.
---
Travelocity Promotional Codes
Travelocity promotional codes for winter and holiday and holiday travel. Save on hotels, flights and cars with these special promo codes and links.
---
NEW BOOKS ON TUCSON MUSIC HISTORY

Read about the local Tucson entertainment scene from the 1950s through the early 2000s. Hundreds of pages of musician interviews, original photographs and stories. If you played in a band or went to a nightclub during those years, you'll be familiar with many of these people and places. Published by Entertainment Magazine. Now available, at a discount, on Amazon.com. Read sample pages Entertaining Tucson Across the Decades. Find your name or photo!
© 2015-2020 Tucson Entertainment Magazine. All rights reserved.