Entertainment Magazine: Events
Tucson's Top New Year's Eve Party Guide
Special New Year's Eve events to usher in 2019 are planned all over Tucson. Some of this year's Tucson NYE entertainment includes a unique evening of magic and mystery at the Tucson Sheraton Hotel, or catch the Monster Ball Drop from a crane at the Maverick King of Clubs. Lowe's Ventana Canyon and Gaslight Theatre are among the other venues with special entertainment events in Tucson on New Year's Eve.
---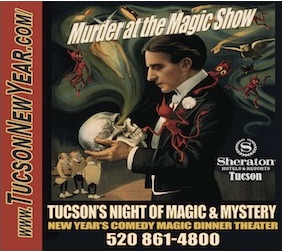 Monday, December 31, 2018
---
Tucson Entertainment Book Sale!
---
---
Things to Do Around Tucson
Even with the heat, there are many things happening in Tucson and many places to go that can provide great relief from the weather. Check today's Tucson event calendar for daily activities.
Tucson, AZ. Attractions
Mt. Lemmon | Gates Pass | Old Tucson | Sabino Canyon Santa Catalina Mountains | Tucson Gem & Mineral Shows | More Tucson Attractions
Tucson Dining & Entertainment
Restaurants | Movies | Shopping | Nightlife
Entertaining Tucson Across the Decades
Tucson Entertainment Venues
ATC | Arizona Opera | TCC | Fox Theatre | Downtown Tucson
Tucson Travel Accommodations
Car Rentals | Hotels | Tucson Airport
---
Travelocity Promotional Codes
Travelocity promotional codes for winter and holiday and holiday travel. Save on hotels, flights and cars with these special promo codes and links.
---
NEW BOOKS ON TUCSON - Download Free Books

Read about the local Tucson entertainment scene from the 1950s through the early 2000s. Hundreds of pages of musician interviews, original photographs and stories. If you played in a band or went to a nightclub during those years, you'll be familiar with many of these people and places. Published by Entertainment Magazine. Now available, at a discount, on Amazon.com. Read sample pages Entertaining Tucson Across the Decades. Find your name or photo!
Learn the legends hidden in the Santa Catalina Mountains- Download Free Book!
Legends of lost mines, lost cities and a lost mission have been passed down by word of mouth for generations. The most famous legend, the Iron Door Mine, helped launch the early American hunt for gold in the 1850s. Read more about the legends and history in a book of the Treasures of the Santa Catalina Mountains.
---
---
© 2014-2019 EMOL.org Tucson Entertainment Magazine. All rights reserved.