Entertainment Magazine: Nevada
---
Las Vegas Entertainment Magazine
---
Las Vegas, Nevada is known as "The Entertainment Capital of the World." That's because Las Vegas, NV is second most popular travel destination in the U.S. Las Vegas entertainment is expected to expand further in the next decade.
Popular attractions include the Las Vegas Strip, a 4-mile stretch of brightly lit all-night casinos, fine dining, luxurious hotels, continuous live entertainment, abundance shopping, state-of-the art convention and meeting facilities.
Enjoy virtual Las Vegas Video Tours with the Las Vegas edition of Entertainment Magazine. Take a walk down the Las Vegas Strip, watch a show, see the Bellagio Fountains and more!
Las Vegas Index
Las Vegas mall goes bazaar; no more pirates; more new shopping
A new shopping mall on the Las Vegas is being constructed on the Las Vegas Strip. The two-acre outdoor Grand Bazaar Shops will be built outside of Bally's Las Vegas Hotel and Casino, on the corner of Flamingo Road and Las Vegas Boulevard.
The 150 small shops will be modeled after a traditional Middle Eastern market and is expected to open in Fall 2014.
Treasure Island Hotel-Casino will end the free pirate show to build new shops in its place,also expected to open in the fall.
A new $100 million park is being built outside of the MGM New York New York and Monte Carlo Casinos. An outdoor dining district and outdoor shopping is planned by Caesars.
McCarren's Super Terminal
As you walk into McCarran International Airport's brand new terminal (T3) you instantly notice how open it is. In a way, it almost seems like an entirely new airport compared to McCarran's other terminals. Continue reading about the new Terminal 3 at McCarren Airport.
Enjoying Good Life in Las Vegas
Las Vegas is known as "Sin City" for a good reason, it is known as place where almost everyone can enjoy decadence. This can, and usually does, include enjoying casino gambling, free flowing drinks, and world class bars and nightclubs.
But it can also include sampling one of the most aggressive adult entertainment industries in the country as well a day trips up north to sample Nevada's completely legal prostitution.
If you want the full Las Vegas experience, it is a good idea to go ahead and get luxury room at one of the hotel casinos to put you in the right mind set. Read about luxury hotels in Las Vegas.
More hotels flood the LV market
The recession has hit Las Vegas hard. But that doesn't stop the opening of several new casino hotels that will add another 10,000 more rooms. Continue reading about Las Vegas hotels and find a discount hotel room.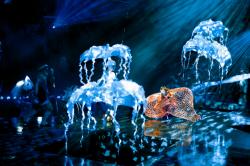 Beatles "Love" at the Mirage" is a joint theatrical production by Cirque du Soleil and The Beatles' Apple Corps Ltd.
A real Las Vegas Experience- the Stratosphere Casino and Resort Hotel
Since opening in 1996, the Stratosphere has already become one of the most identifiable icons of the Strip.
Although Las Vegas has seen its fair share of problems with the economic woos the last few years, the Stratosphere has remodeled 909 Guestrooms, located on floors featuring upgraded elevator lobbies with marble floors, new carpeting and wall treatments.
Cirque Du Soleil Latest Extravaganza – Viva Elvis.
Viva Elvis is a stage show performed by the astounding acrobats of Cirque Du Soleil who inundate you with amazing acrobatic routines, and are joined from time to time by individual singers, guitarists and even a rock band.Runners to Rock the Vegas Strip Inaugural Rock 'n' Roll Las Vegas Marathon & Half Marathon marks first ever. TRead more about the Rock 'n' Roll Las Vegas Marathon.
---
---
©1996-2018 EMOL.org. All rights reserved.