Entertainment Magazine: Tucson: Events
Tucson Holiday Events: Christmas and Hanukkah
Looking for something do to in Tucson during the winter holiday season? There are dozens of kids-friendly Christmas and Hanukkah holiday events celebrated throughout November and December 2019.
This year, Hanukkah (also spelled as Hannukah) falls on December 22 through December 31, 2019.
Dates and times for some of these Tucson holiday events have not been finalized yet. Since they are annual events, follow the links for updated information. More events will be posted as they are received.
These are some of the popular holiday activites and upcoming family daily and weekend winter events in Tucson. Submit your free Tucson holiday event to [email protected]
---
2019 Holiday Events in Tucson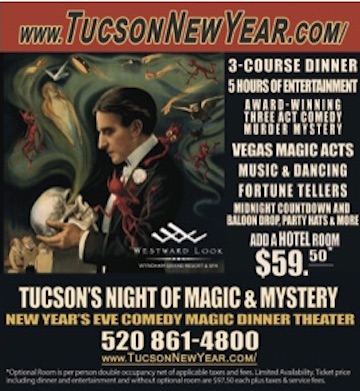 Currently Happening:
All Tucson Holiday Events Calendar contains dozens of Christmas, Hannukah and other holidays events for kids and families.
Mexican Arts Market NOW through Monday, December 30, 10 AM–5 PM each day. Explore a wide variety of exquisite Mata Ortiz pottery, playful Oaxacan woodcarvings, and vibrant Zapotec rugs—just in time for holiday shopping!
Holiday Nights at Tohono Chul Park with music, home-baked cookies, shopping, holiday dining, stroll through thousands of twinkling lights, live music, Dec. 6-Dec. 7; Dec. 13-14; and Dec. 20-21. 5:30-8:30 pm, $16 general admission, $5 kids ages 5-12 and $12 for Tohono Chul members. 7366 N. Paseo Del Norte, 520-742-6455.
Everyday Through December 22:
The Tucson Arizona Boys Chorus Tree Lot will be open Fridays, Saturdays, and Sundays. Hours of operation are Fridays and Saturdays from 10am to 9pm and Sundays 10am to 7pm. The lot features fresh cut trees at competitive prices. Trees available include Douglas Fir, Noble Fir, Grand Fir and Nordman Fir. Deliveries are available. The Chorus also sells fresh wreaths and garland.
Evenings Through December 24:
Rockin' Around The Christmas Tree Revue. Kick off your holiday season at the Gaslight Music Hall with our star-studded Rockin' Around the Christmas Tree Revue! Share the joy of Christmas with our spectacular 7-piece Gaslight Show Band, as well as our six incredible vocalists. Gaslight Music Hall.
Through December 30:
Reid Park Zoo Lights with Santa, entertainment, hot chocolate, food and snow. 6pm-8pm. Encore nights December 26-30. $10 for adults, $6 for kids ages 2-12. Reid Park Zoo members $3 discount. Reid Park Zoo, 3400 E. Zoo Court. reidparkzoo.org/event/zoo-lights-2019
Tuesday-Sundays:
El Nacimiento at Tucson Museum of Art 800-piece annual Nativity scene. 10am-5pm. 140 N. Main Avenue. $12 general admission, free for kids under 12. tucsonmuseumofart.org.
Lights of the World Tucson, 6 million LED lights, carnival rides, entertainment and music. Kino Sports Complex, 2500 E. Ajo Way (east parking lot). 5pm-10pm. $17.99 adults, $14.99 children 3-12. tucson.lightsoftheworldus.com
Sunday, December 1, 2019:
The 9th Annual Renegade Classics – Desert Diamond Casino Santa Claus Toy Run returns Sunday, December 1st. Over 900 bikers are expected and the hundreds of toys collected will benefit underprivileged children through The Salvation Army and the Tohono O'odham Nation children's charities. Tickets will also be on sale day-of-event at Renegade Classics. Tickets are $22 plus a new, unwrapped toy.
14th Annual Tucson Tamal Festival at the Casino del Sol AVA Amphitheater. Free and open to the public fromn 10:00am to 5:00pm. Experience the rich tastes, smells and variation of tamales from the Southwest and Mexico. Free event.
Made In Tucson Market on the Historic Fourth Avenue from 10am-6pm. Free to attend.
December 6-15, 2019: Arizona Repertory Singers returns to its choral roots this December with traditional holiday favorites and fun and festive new music. The 45-member choral ensemble will usher in the holiday spirit with songs like Hark! In 7/8 by Steven Landau and Bring Us In Good Ale by Gustav Holst alongside stunningly beautiful classics by Francis Poulenc, Ola Gjeilo, and up-and-coming composer Connor Koppin.
Friday, December 6-21, 2019: Tohono Chul Holiday Nights A Million Lights Make Tohono Chul Shine Bright During the Most Magical Time of Year. Stroll along paths draped with over a million twinkling lights while musicians and artists perform throughout the gardens. Holiday Nights takes place from 5:30 to 8:30 p.m. the first three Fridays and Saturdays in December, starting December 6 through 21st. Read more and get schedule for Holiday Nights.
Friday, December 6, 2019
An Irish Christmas at 7:30 PM at Fox Tucson Theatre. Take a journey through Christmas in Ireland with superb dancing, singing and Irish traditional music celebrating the international spirit of the holiday season.
Friday and Saturday, December 6 & 7, 2019:
Holiday Open House, 10am - 5pm at the Philabaum Glass Gallery, 711 S. Sixth Avenue. Join us for our Holiday Open House featuring Unique, One of a Kind gifts. Ornaments, Jewelry, Menorahs. Phone (520) 884-7404.
Christmas Choir Concert at Tubac Luminarias from 6:00pm to 8:00pm both nights, enjoy holiday magic at the Tubac Luminarias with a Christmas Concert by TaliasVan's 50-voice Bright & Morning Star Choir & Orchestra! Opening for them is TaliasVan's CosmoYouth Choir and a visit from Santa Claus himself is expected! The concert starts at 6:00pm and takes place in Tubac Plaza next to Sacred Treasures. Continue reading.
Saturday and Sunday, December 7 & 8, 2019
Saturday, December 7, 2019
Sunday, December 8, 2019
The University of Arizona's annual "Holiday Card to Tucson," is a spectacular choral performance featuring the Arizona Choir, UA Symphonic Choir, University Community Chorus, Tucson Boy's Chorus and Tucson Girl's Chorus. The TGC Advanced Chorus will perform one performance at 7:30pm. Limited tickets available.
One Rehearsal Short, A Musical Montage Revue presents "Frosty Flicks: A Celebration of Holiday Movies" **ONE PERFORMANCE ONLY** Sunday, December 8th 6pm, Arizona Rose Theatre. $10 online or at the door.
2nd Sunday Vintage Market with 60 vendors for vintage, antique and collectible items.at 4075 W. Ina Road, 8am-1pm. Held in Lowe's parking lot.
Mercado Flea Maarket at Mercado San Agustin, 100 S. Avendia del Conveno, 8am-2pm. Free holiday events for the whole family.
Ballet Tucson will host its 19th Annual Sugar Plum Tea. There are few things more rewarding than experiencing the joy of tradition during the holiday season, and the Sugar Plum Tea has become a tradition for Tucson families.
QUICKSILVER BAROQUE performs FANTASTICUS in TUCSON with chamber music written in a time of intense upheaval and unpredictable cultural climate in the German states. 3:00 pm at St. Philip's In The Hills Episcopal Church, 4440 N. Campbell Ave.
Tuesday, December 10: The public is invited to the Bumblebees and Tutti Pop Choirs Winter Concert on December 10 at 5:30 pm. Come celebrate the winter season with songs to warm your hearts! Special guests, the Mariposa Singers! It will be held at the JCC Ballroom, 3800 E River Road. Free will donations are welcome.
Wednesday, December 11, 2019
December 12-15, 2019: Lessons & Carols by Candlelight: Songs of the Magi
THURSDAY, DECEMBER 12, 2019 AT 7:30 PM AT CHRIST THE KING EPISCOPAL CHURCH

FRIDAY, DECEMBER 13, 2019 AT 7:00 PM AT ST. FRANCIS IN THE VALLEY EPISCOPAL CHURCH, GREEN VALLEY

SATURDAY, DECEMBER 14, 2019 AT 7:30 PM AT ST. PHILIPS IN THE HILLS EPISCOPAL CHURCH

SUNDAY, DECEMBER 15, 2019 AT 3:00 PM AT CATALINA UNITED METHODIST CHURCH

SUNDAY, DECEMBER 15, 2019 AT 7:30 PM AT ST. ALBAN'S EPISCOPAL CHURCH
Friday, December 13, 2019: Lightwire Theatre: A Very Electric Christmas at 6:30 PM at Fox Tucson Theatre. Brighten your holidays with Lightwire Theater's A Very Electric Christmas. Audiences of all ages will treasure this magical and captivating tale of family, friendship and hope set to timeless holiday hits including Nat King Cole, Mariah Carey and Tchaikovsky.
December 13-14, 2019: The Tucson Arizona Boys Chorus will present its annual Holiday Concert on Saturday, December 14 at 3:00pm and 7:30pm at the UA School of Music Crowder Hall. Under the direction of Julian Ackerley and accompanied by a small orchestral ensemble, the choristers will perform music of the season including Christmas carols, sacred songs and Hanukkah selections.
December 13-15: Fourth Avenue Winter Street Fair is held the first weekend of December all along 4th Avenue near Downtown between Ninth St. and University Blvd. Join tens of thousands of Tucsonans and visitors to see more than 400 arts & craft booths, food, entertainers & musicians from around the US, 2 stages & street performers. Free from 10 am - 6 pm. Free event.
Saturday, December 14: Holiday Arts Market from 10 AM–5 PM. This is a great opportunity to purchase holiday gifts! The market features contemporary and traditional American Indian jewelry, Mata Ortiz pottery and jewelry, Zapotec rugs, and Oaxacan woodcarvings. Local artist Diana Madaras will be available for autographs between 11 AM and 3 PM. Call 520-622-6014.
Monday, December 16–Monday, December 30: Mexican Arts Market from 10 AM–5 PM each day. Explore a wide variety of exquisite Mata Ortiz pottery, playful Oaxacan woodcarvings, and vibrant Zapotec rugs—just in time for holiday shopping! Hundreds of handcrafted items will be available for purchase during this event. Call 520-622-6014.
Saturday, December 14-15, 2019: Tucson's Regional Ballet's "A Southwest Nutcracker." This annual holiday event in Tucson brings you to Tucson in the 1880s with a southwest version of "The Nutcracker." Saturday, December 14 and Sunday, December 15, 2019. Tucson Music Hall, 260 S. Church Avenue.
December 14-19, 2019: Winterhaven Festival of Lights is one of the longest running festivals of its kind in the country. The Festival of Lights celebrates the holiday season in Tucson and is visited by hundreds of thousands of people from all over southern Arizona. Free event.
December 14 and 21, 2019: Southern Arizona Women's Chorus Presents "Spanish Allelu". This holiday season take a musical trip to Spain with the 50-voice Southern Arizona Women's Chorus.
All Tucson Holiday Events Calendar
Saturday, December 14, 2019
Queen Astara's Annual Winter Fairy Lights. Enjoy the wonderment of the festive lights and decorations while strolling Tucson's own fairyland of enchanted gardens, stone fairy houses, grottos and water features -- the heart of Magic in Tucson. 6:30 – 8:30 PM. Valley of the Moon.
RAD Marketplace with local vendors, handmade items, live music, DJs, food trucks at the Warehouse Arts District, 439 N., Sixth Avenue, 11am-5pm. Free event.
Honky Tonk Christmas at The Gaslight Music Hall, 2PM & 6PM. Gather up the family and get set to two-step 'round the Christmas tree as you enjoy the yuletide twang of Honky Tonk Christmas!
Sunday, December 15, 2019: Merry-Achi Christmas at 4:00 PM at the Fox Tucson Theatre. A proud fifth-generation mariachi musician, Maestro José Hernández and his platinum-selling Sol de México have broken countless barriers in mariachi music, becoming the first mariachi ensemble to be nominated for a Grammy Award.
Tuesday, December 17, 2019: Christmas with The Rat Pack. Holiday music never had it so good as when it was being crooned by legendary "Rat Pack" members Frank Sinatra, Dean Martin and Sammy Davis, Jr. Pour yourself some eggnog and get ready to be transported back to a Vegas-style lounge for a night of familiar standards and swingin' Christmas songs. 6pm.
Friday, December 20, 2019: 17th Annual Miracle en el Barrio event, presented by NOVA® Home Loans, scheduled to take place on Friday, December 20, from 8:30am to 12:30pm at St. John's Church; located at 602 W. Ajo Way in Tucson.
Saturday, December 21, 2019
A CosmoChristmas® Celebration for the Whole Family. The best of traditional holiday cheer meets modern, cosmic and unique perspectives on this special time of year with a Winter Solstice Christmas Celebration at the Sea Of Glass—Center For The Arts. Bring the family out on Saturday, December 21st to enjoy two exquisite holiday choirs, a Christmas musical play filled with humor and touching moments, and a visit from 'ol Saint Nick!
Christmas With The Dolls. Walk in a *Winter Wonderland* as The Manhattan Dolls take you through all of your favorite Christmas tunes with gorgeous harmonies! So gather around that ole' piano and get ready to sing along as you *Rock Around the Christmas Tree*, schmooze with *Santa Baby* and take a quick ride with *Rudolf the Red Nosed Reindeer*. 6PM. The Gaslight Music Hall.
Wednesday, December 25, 2019: Christmas Day in Tucson. All Tucson Holiday Events Calendar.
December 28-31, 2019: A Holiday Evening with Cher, Bocelli, Valli, Streisand and more! Now is your chance to see them live and re-created by Las Vegas' number one impersonators of all time.
December 28-29, 2019: Ballet Tucson, Tucson's own resident professional ballet company presents its beloved, traditional Victorian production of The Nutcracker at the Tucson Music Hall for 4 performances only.
Tuesday, December 31, 2019: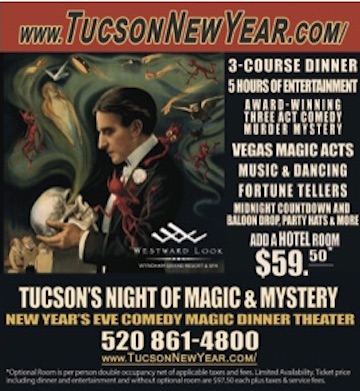 Tucson Hanukkah Events in 2019
Friday, December 27: 100 Menorah Shabbat Services with food, stories, prayers and songs. Bring own menorah with seven candles to light at the 6th night of Chanukah. 5:30-6:30pm. Temple Emanu-El, 225 N. Country Club.$5 per person ages 14 and up.
Sunday, December 29: Hanukkah Pajamakkah wear your Hannukah pajamas, eat a tasty buffet, light the menorah or bring your own, 6-8pm at Congregation Anshei Israel, 5550 E. 5th Street. $13 at the door.
Jewish Community Center (JCC) Upcoming Tucson Hanukkah events will be posted soon.
---
Submit your free Tucson holiday event to [email protected]
---
Tucson Entertainment Book Offers:
---
Holiday Festivals in Southern Arizona
CASABEL: The 37th Annual Cascabel Community Fair is held on the banks of the San Pedro River at 10am-4pm each day.
TUBAC: Luminaria Nights: Fiesta de la Navidad - Village of Tubac, hundreds of luminarias line the streets and artist studios, shops open until 9 pm, carolers, homemade food, Santa, free, 5-9 pm, 520-398-2704.
TUMACACORI: 47th Annual La Fiesta de Tumacacori - celebrating the many cultures that were historically and presently associated with the Santa Cruz Valley, traditional creations of all the cultures including 50 food and craft booths, continuous live entertainment on stage and children's activities, a Mariachi Mass preceded by a traditional procession on Sunday, free, 10 am - 4 pm, 520-398-2341.
---
---
Holiday Sporting Events
5th Annual Walk for Kids - UA Mall, join 1,000 walkers supporting Ronald McDonald House Charities of Southern Arizona, presented by McDonald's Local Owner/Operators, HSL Properties, and Walgreens, features family activities in a Kids' Zone, music, snacks, hot beverages, special appearances by Santa Claus, Ronald McDonald, the UA Pep Band and more, registration includes your official Walk for Kids long-sleeved t-shirt, 8 am.
Jingle Bell Walk held at Reid Park. This popular Tucson events has jingle bells on the shoes of 100s of people walking & running a 5K, costumes, food, fun, children's activities, free T-shirt, $35 minimum pledge for Arthritis Foundation, check in at 9 am, 520-917-7070.
USTA National Winter Tennis Championships at the Reffkin Tennis Center is a top-rated 12- and under-14-year-old tennis players compete in major, annual United States Tennis Association (USTA) sanctioned event, 520-791-4896.
Winterhaven Run Through the Lights in Winterhaven Square. 5K fun run through the lights of the Winterhaven neighborhood, flat, paved course, closed to automobiles, festive, holiday attire is encouraged, free, 6 pm, 520-326-9383.
Zoo Lights at Reid Park Zoo. Twinkling lights and jingle bells, Santa Claus, and holiday decor, music, and refreshments, $1-4, Thursday, Friday, Saturday, and Sunday nights, 6-8 pm, 520-791-4022.
Christmas Tree Lots
Tucson Arizona Boys Chorus Christmas Tree Lot is staffed by Chorus members and their parents, and has been a traditional holiday fundraiser for the non-profit group. The lot will be open through from 12:00 noon to 9:00 PM Mondays through Thursdays, 10:00AM to 9:00PM Fridays and Saturdays and 10:00AM to 7:00 PM on Sundays.
---
---

This Week's Online Offers for Tucson restaurants
---
---
Have Your Tucson Events Posted Free: Tucson-area non-profit groups and community organizations can post Tucson event listings for free. Email your Tucson event, presentation, workshop, family activities, etc. for consideration. Non-commercial listings only. Send your listing to

[email protected]

.