In the past few years, hundreds of major national franchises have opened their doors to Tucson residents and tourists.
Since the Tucson metropolitan area population has surpassed the million resident mark, it makes it prime for new major businesses.
Tucson has four major shopping malls and dozens of minor shopping strips that are openings on all sides of the city. Population explosions in the northwest, southwest and east sides have forced many local businesses to open multiple locations.
While there are new businesses getting established, there are many businesses for sale. For entrepreneurs looking for a good purchase, the market is ripe- especially with restaurants.
Tucson shopping can be done online inside our Tucson business links and affiliations. Find web pages and promotions from a number of Tucson stores, both local and national.
Shop major businesses online and pick up your merchandise without shopping through the store itself! All merchants will also deliver if you can't stop in.
SW Jewelry mined from Mt. Lemmon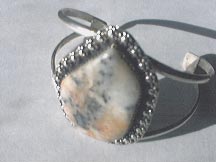 Extremely rare serpentine with white quartz, gold, silver and copper ores.
From mines miles within Tucson's Mt. Lemmon are unique, one-of-a-kind specimens, southwestern artwork and fashioned jewelry by local artist Flint Carter.
From the origin of the "mine with the Iron Door" legend? Find out more!