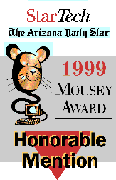 1999 Mousey Awards
AzStarnet.com Arizona Daily Star
E-Mail EntertainmentMagazine.net with your comments and greetings. We are unable to mail out individual requests for brochures or events. All of our available information in on line.
Entertainment Magazine On-Line (EMOL.org.) and EntertainmentMagazine.net is published through Southwest Alternatives Institute, Inc., a non-profit, tax-exempt Arizona US 501 3(c) corporation.
First print publication in 1977.
First on-line edition January 17, 1995. ISDN: 1087-8971
Robert Zucker, publisher