In commemoration of the 75th anniversary of Elvis Presley's birth (January 8, 1935) comes a new 25-track collection of his most well-known songs. ELVIS 75 follows the December release of the career-spanning 4CD box set, ELVIS 75: GOOD ROCKIN' TONIGHT. ELVIS 75 was released to all physical and digital retail outlets this past Tuesday, January 5, through RCA/Legacy, a division of SONY MUSIC ENTERTAINMENT. As the year continues, RCA/Legacy will unveil a full slate of Elvis Presley catalog titles.
Nickelback tours with Breaking Benjamin, Shinedown and Sick Puppies With Second Leg of Arena Dates. Grammy-nominated and Billboard Magazine's group of the decade, Nickelback, have extended their Dark Horse World Tour into June 2010. With tickets for the first leg of the 2010 Dark Horse World Tour already on sale and on pace to break new sales records for the band, Nickelback adds 19 more dates to the tour and will be joined by Breaking Benjamin, Shinedown and Sick Puppies. Tickets for the new dates go on sale beginning January 16th.
David MacKenzie and Josh Johnston's second recording, Notes Home, captures one of the most beloved genres in jazz.
Bachman & Turner unite for new album and world tour in June 2010. Giants Of Rock Music, Randy Bachman & Fred Turner, Back Together; Ready To Take Care Of Business.
MIKE LONGO TRIO – STING LIKE A BEE. After more than a half-century as a jazz pianist, and having learned valuable lessons early on from studying with Oscar Peterson and playing with Dizzy Gillespie, Mike Longo delivers an incredible repertoire of in-depth musical exploration on his latest trio recording, Sting Like a Bee.
Todd Rundgren is proud to announce the only West Coast live performances of his 1973 classic masterpiece, A Wizard, A True Star. AWATS has been long heralded by the rock press as a defining paradigm-shifting album, but until this year had incredibly never been performed in public in its entirety.
STEVE BAXTER'S LATEST RELEASE "SUGAR ON THE BONE" SPREADS SWEETNESS THROUGHOUT BODY AND SOUL
The Kings Of Leon…looks like these bad boys are here to stay and I wouldn't have it any other way!!
Rhapsody and MTV are the exclusive places to hear the new Jay-Z album, The Blueprint 3, starting September 1, nearly two weeks prior to official release date. Rhapsody will be the exclusive retailer for The Blueprint 3 from September 8-10, prior to official September 11 release date. Rhapsody collaborates with Jay-Z on TV advertisements promoting the new album -- Rhapsody to premiere a 60-second customized Jay-Z advertisement in 2009 MTV VMAs.
U2's North American Tour set for 2010.
KEYBOARDIST JAMIE CRAIG CREATES MODERN INSTRUMENTAL SOUND OUT OF ELEMENTS OF THE PAST
According to www.billboard.com Britney Spears becomes the first artist in over three years to debut at No. 1 on the Billboard Hot 100, to be released tomorrow (Oct. 15), as "3" opens at the pinnacle of the chart. Her new track, a racy paean to the joys of three-way sex from the upcoming hits set "The Singles Collection," due Nov. 24, shifts 255,000 downloads in its first week of release, also propelling it to No. 1 on Digital Songs.
On his second album, A Still Motion, solo pianist Michael Samson has created a work of art that musically and philosophically explores what he calls "The Big Paradox" -- a hidden world beneath the surface of everyday life where you can discover meaningful movement and rhythms, the beauty in opposites and contradictions, and often-unrecognized connections between people.
Michael Jackson was posthumously awarded a star on the Palms Casino Resort Walk of Fame yesterday, on what would have been the pop icon's 51st birthday.
Bob Dylan's Christmas In The Heart To Be Released October 13th. All Artist's Royalties to Benefit Millions in Need Through Feeding America and International Charities More Than 4 Million Meals To Be Provided During Holidays.
Legendary Imprint Ruthless Records Readies Debut Album From L.A. Multi-Talent Hopsin
These United States share first MP3 from forthcoming album, Everything Touches Everything. Also, August pre-release tour - album available early at Aug. shows and band web site, and nationally Sept. 1 - Upcoming shows w/ Deer Tick, Lucero and Murder by Death.
Acoustic Ocean debut CD blends Celtic harp, guitars, piano and dulcimers two body-mind therapists and yoga instructors who just happen to also have been folk singers for two decades and five albums, so they really know their stuff in both fields. This new CD is already Top 10 on the NAR/ZMR chart.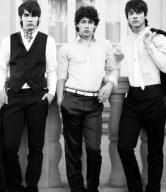 Jonas Brothers and Hollywood Records Team Up to Release, Fashionably Late, Debut Album From Honor Society
Joe Jonas, Kevin Jonas and Nick Jonas of the Grammy-nominated, platinum-selling band, Jonas Brothers announced they would team up with Hollywood Records to release Fashionably Late, the debut album from one of this summer's hottest new band, Honor Society. Continue reading about the Full Moon Crazy Tour.
"This Is It" film showcases Michael Jackson last days - in 3D HD. The film, which will also offer select sequences in 3-D, will provide a unique career retrospective and feature interviews with some of Jackson's closest friends and creative collaborators. Michael Jackson dead at age 50. Continue reading about the new Michael Jackson movie "This Is It"
Kanye West, Eminem and Coldplay Vie for Four Awards Each, Green Day Gets Three Nominations While Jay-Z Grabs Two. The 26th Annual Awards Show Will Broadcast Live From New York City On Sunday, September 13 at 9:00PM (Live ET/Tape Delayed PT). Read more about the MTV Awards and Beyonce.
Continue reading about the 2009 MTV Music Video Awards and list of nominations.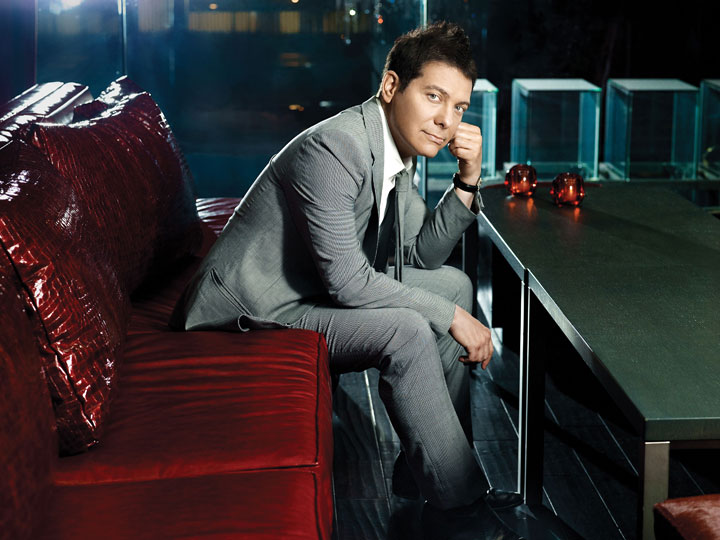 Two "Beautiful Souls" Michael Feinstein and Jewel came together at the Hollywood Bowl for The Art of Song
Portugal. The Man North American 2009 Concert Tour
French Miami 2009 concert tour
Pixies US "Doolittle" Concert Tour in 2009
Mew U.S. Tour with Nine Inch Nails in August and September.
BOBBY LONG, CO-WRITER OF TWILIGHT'S "LET ME SIGN," SET FOR MULTI-CITY SUMMER U.S. TOUR IN SUPPORT OF DIRTY POND SONGS INDIE CD
OMG BROADWAY'S HIT LEGALLY BLONDE COMES TO THE BIG D
ANVIL CONTINUES EXTRAORDINARY COMEBACK WITH AC/DC DATES AND NATIONAL RELEASE OF 'THIS IS THIRTEEN'
Beijing Music Festival Celebrates 12th Year of World-Renowned Classical Music From October 10th - 30th, 2009
Soulsavers concert tour. Full-Length Album Broken – Featuring Mark Lanegan on Vocals - to be released August 18
NEW COLDPLAY VIDEO STRAWBERRY SWING LAUNCHES JULY 20
Katerina Graham to release new CD
The Butterfly Effect 3: Revelations DVD
CHAIRLIFT ANNOUNCE EXTENSIVE TOUR SCHEDULE WITH PHOENIX AND OTHERS, LATE NIGHT TELEVISION DEBUT ON CRAIG FERGUSON
Jimmy Hendrix and Woodstock: 10 Little Known Facts about the Performance That Defined the '60s. WPI Professor and Hendrix Scholar Joel Brattin Recalls What Made the 1969 Woodstock Appearance a Unique Moment in the Career of the Legendary Guitarist
Dallas, Texas Summer Musical Presents A Chorus Line
blink-182 2009 Summer and Fall 50-Concert Tour Dates. Tour Also Launches "T-Mobile Sidekick Live the Rock Life Sweepstakes"
Vayo is the heart, soul and voice of tango today. Born and raised in Uruguay, he has made his home in the United States for many years. Vayo Raimondo is one of only a handful of artists in the history of tango who both writes and sings new tango music as well as traditional themes. All of these attributes are spotlighted on his new recording, simply titled Tango.
Jump Back: The Best Of The Rolling Stones is a reissue for August 18, 2009. Originally released in November 1993, this definitive collection gathers eighteen of the group's classics from the seventies and eighties. Continue reading about the new CD reissue of the Jump Back album.
Paul Oakenfold collaborates with Madonna on her forthcoming album. He supports the Sticky & Sweet Tour in the UK plus major festival dates added to his busy summer schedule in 2009.
Two-CD The Who Sell Out - Deluxe Edition Expands the 1967 Classic With Both the Original Stereo and Mono Albums, and Dozens of Alternate Versions, Including Five Previously Unreleased Songs
Lawrence Blatt's Fibonacci's Dream
"QUEEN OF THE BLUES" KOKO TAYLOR dies.
Rolling Stones re-issued CDs: Following the release of the first batch of re-mastered, post 1971 studio albums by The Rolling Stones, Universal Music Group have confirmed details of the second installment in this trilogy of reissued albums. The comprehensive reissue program started in May 2009 with the re-appearance of the legendary Sticky Fingers, Goats Head Soup, It's Only Rock'n'Roll and Black And Blue in stores and digitally. It now continues apace with the reintroduction of such acknowledged classics as Some Girls, Emotional Rescue, Tattoo You and Undercover, due out on June 9, 2009 in the US and worldwide June 8th. The third and final installment (of the studio albums) will be released in July, 2009.
Live Nation Unveils 2009 Summer Concert Schedule. more than 6,700 concerts in 35 countries this summer.
10th Anniversary SFJAZZ Spring Season Presents Michael Feinstein: The Sinatra Project on Sunday, May 10, 7:00pm at the Davies Symphony Hall, 201 Van Ness Avenue (at Grove Street), San Francisco, California.
Jonas Brothers Set to release 4th new CD "Lines, Vines And Trying Times" Worldwide on June 16. Major Roll-Out for First Single 'Paranoid' Starts May 8
Joan Jett & The Blackhearts, X, Pacific Symphony Performing The Magical Music of Disney, K.C. & The Sunshine Band and Three Dog Night perform at the Summer Concert Series at Pacific Amphitheatre as part of the 2009 OC Super Fair. Tickets go on sale to the general public on Saturday, May 2, 2009 at 10 a.m.
Bob Dylan, along with fellow musicians Willie Nelson and John Mellencamp will embark on a U.S. concert tour starting in July and August 2009. This marks the second time in the past 24 years that these three performers shared the concert stage. Two New Dylan Books to be released for Dylan's 48th Album and Historic Summer Ballpark Tour.
Following Van Morrison's two critically-acclaimed sold out nights bringing his groundbreaking, signature new CD album, Astral Weeks to brilliant life at London's Royal Albert Hall, the anticipation builds for the May 19, 2009 Amazon exclusive new DVD release, Astral Weeks: Live at The Hollywood Bowl.
Frank Sinatra new CD "Classic SInatra 2" on sale beginning June 2.
The Black Eyed Peas Score Their First #1 on Billboard's Hot 100 Chart
Winners of the 2009 44th ANNUAL ACADEMY OF COUNTRY MUSIC AWARDS
Winners have been announced for the 44th ANNUAL ACADEMY OF COUNTRY MUSIC AWARDS, a star-studded ceremony broadcast LIVE April 5, 2009 on the CBS Television Network from MGM GRAND in Las Vegas. More than half a million fans voted in the Entertainer of the Year category, and named Carrie Underwood for the evening's biggest honor. Continue reading about the 2009 CMA presentation and list of winners.
Cabaret songstress Linda Eder returns to her roots
U2 360 Tour: With sales of over 82,000 tickets sold in New York, 72,000 in Boston and 65,000 in Chicago U2 360 Tour will set the largest single day attendance record in each city. Response has been overwhelming and records continue to shatter. In London, with over 6700 tickets sold in just 60 seconds, ticket sales for U2 360 Tour at Wembley Stadium resulted in the highest sales rate ever in the UK. At Dublin's Croke Park, 160,000 tickets for U2 360 Tour performances on July 24th and 25th sold out in just 40 minutes
Pearl Jam to Reissue band's debut LP "Ten" in stores March 24, 2009
Crosby, Stills & Nash to Tour North America and Europe, June - September 2009
Beyonce's 'Diva' is America's #1 Dance Record! Superstar's Latest Single From I AM...SASHA FIERCE Rockets To Top Of Billboard's Dance Single Club Play Chart.
Jonas Brothers World Concert Tour 2009 is produced by Live Nation and presented by Burger King. Get tour schedule and concert dates.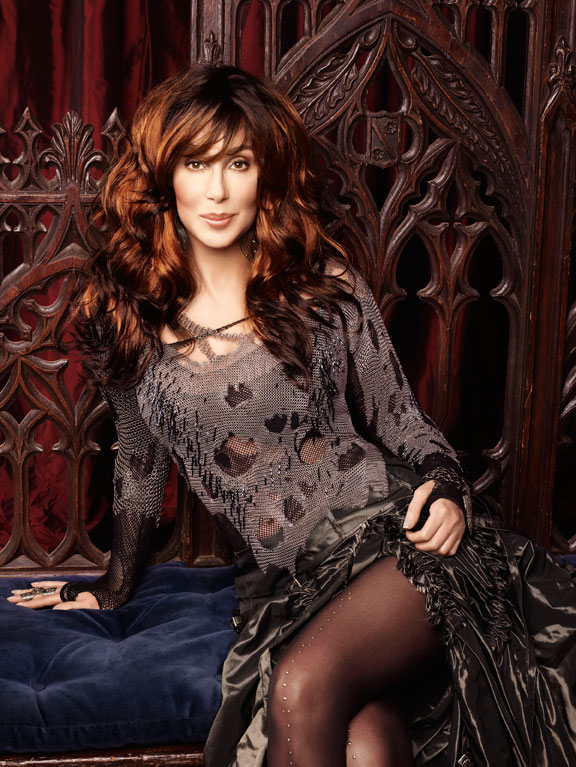 Cher in Las Vegas, Nevada by Lynn Marie Squillace
The Monthlies are putting the finishing touches on their very first album and plan to release it in March, 2009 during their appearance at SXSW in Austin, TX. They've just finished shooting their first music video for the hit single, "Hip Girl," which should be released in March as well.
Britney Spears' makes top presence on the music chart with her latest single "Circus." The song is #1 on the Top 40 radio charts. This is Britney's fifth #1 song overall. Britney Spears had three songs in the Top 40 music chart. Her breakout first hit song was "Womanizer." "Circus," and her quickly rising third single "If You See Amy," are now on the charts.
Tracy Byrd goes to Europe. Country music star Tracy Byrd will perform in the UK, Switzerland and Germany. Byrd has never performed overseas. On Thursday, Feb. 26, 2009 , Byrd and his entourage will depart the USA for a 10-day trip to Europe.
2009 Kids' Choice Awards Nominees/Mega-Star Trio, Jonas Brothers Perform at Nickelodeon's 22nd Annual Kids' Choice Awards
Slate of Stars also Set for Live Telecast Includes Hugh Jackman, Amy Adams, George Lopez, Keke Palmer, Robert Pattinson, Queen Latifah, Amy Poehler, Ben Stiller, Reese Witherspoon, Miranda Cosgrove, Zac Efron and Nat and Alex Wolff. Continue reading about the Jonas Brothers awards show and new 3D movie.
"Nickelodeon Kids' Choice Jonas Jam Sweepstakes" on Tap, Too
LOS ANGELES, Calif. – Feb. 25, 2009 – Nickelodeon Kids' Choice Award-nominated mega-star trio Jonas Brothers, who clinched a coveted Blimp trophy last year for Favorite Music Group, will perform at Nickelodeon's 22nd Annual Kids' Choice Awards.
The platinum-selling singing siblings will rock the house live from UCLA's Pauley Pavilion -- Saturday, March 28 (8-9:30 p.m. ET/PT) -- and join a slate of luminaries newly set to participate in the glorious, slime-filled event, including Hugh Jackman, Amy Adams, George Lopez, Keke Palmer, Robert Pattinson, Queen Latifah, Amy Poehler, Ben Stiller, Reese Witherspoon Miranda Cosgrove, Zac Efron and Nat and Alex Wolff. Continue reading about the Jonas Brothers and the Nickelodeon Kids' Choice Awards.
The Allman Brothers Band and Onstream Media Break New Ground with Live, 15-Day Webcast of Band's 40th Anniversary Concert Series
Live TV-Like Quality Internet Broadcast Will Bring the Annual Beacon Theatre (NYC) Event to the Band's Global Audience wOnstream Media Corporation (NASDAQ:ONSM) , an online service provider of live and on-demand Internet video, announced it will be web-casting the Allman Brothers Band's 40th anniversary 15-day concert series beginning on March 9, 2009. Continue reading about the Allman Brothers live concert.
MICAHEL BRANT DEMARIA'S OWN VISION QUEST INSPIRED SIMILAR MUSICAL RECORDING
Al Conti's new CD "Scheherazade," is his third album and contains ten original world-fusion tunes that musically tell the storyteller's story.
Dancer, actor, singer, songwriter Diandra
Beyonce Performs 'At Last' at the Request of Barack & Michelle Obama for Couple's First Dance as America's President & First Lady
Tucson blues legend, Sam Taylor dies at 74
Tucson, Arizona's former blues guitarist and singer-songwriter, Sam Taylor, passed away on Monday, January 5, 2009 at the age of 74, in his Islandia, New York home.
Taylor had spent a decade in Tucson, AZ. and was a staple on the local music scene. He left Tucson in 1996 to live with his family in New York.
Read interviews of Sam Taylor while he performed in Tucson, see photos of Sam Taylor in concert. Sam Taylor interviews.
Photo: Sam Taylor. Photo by Thomas J. Pennington © 1989 for Entertainment Magazine.
'Making The Monkees' Revisits Rise and Fall of 1960s Musical Phenomenon. Premieres Saturday, January 10, 2009 on Smithsonian Channel
Britney Spears' new 'Circus' CD Bows at #1
This week, December 10, 2008, Britney Spears secures her status as an iconic superstar with the release of her newest album, Circus (Jive Records). Additionally, Spears makes music history by becoming the first female ever to have five No. 1 album debuts. Her sixth studio album, Circus debuts No. 1 in the U.S. according to SoundScan, selling over 505,000 albums and also enters at No. 1 on the Digital Albums chart. This is the second biggest album debut of the year for a female artist. Continue reading about Britney Spear's "Circus" CD.
Pearl Jam to Reissue band's debut LP "Ten"
New CD in Stores March 24, 2009. Album extras found across the four editions of Ten include: Remaster of original Ten album + remix by producer Brendan O'Brien. Each Ten package will include two versions of the album: the remastered version of the original album PLUS an accompanying remixed version done by the band's long-time producer, Brendan O'Brien (Bruce Springsteen, AC/DC, Audioslave). Details on specific extras for each of the four packages are attached. Continue reading about "Ten."